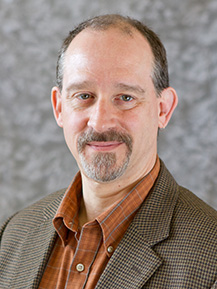 Peter Hulen
ASSOCIATE PROFESSOR OF MUSIC, DEPT CHAIR
Peter Lucas Hulen came home to the liberal arts when he arrived at Wabash in 2004, after teaching at other types of institutions at home and abroad. He is a composer with a focus on generating musical sound with computers, alone or in combination with other instruments. His musical background is diverse, encompassing not only his areas of expertise in composition, computer music and music theory, but also instrumental and choral conducting, and symphonic, jazz and choral performance. Besides working on new courses in electronic music history and literature, and music computer programming, he is also developing a course on the social and cultural significance of music in China, growing out of his interest in Chinese language, history and culture.
Prof. Hulen's music is mostly experimental, and so it mostly gets performed for other artist-scholars in the field of computer-generated music. When he is not teaching at Wabash or composing music, he sings in choral services with a local choir and plays in a Renaissance recorder consort. He also enjoys landscape gardening, cooking and eating expensive, unhealthy food, social media with friends far and near, and time with his partner and children.

Hulen discusses the roots of electronic music at Wabash College, the creative process,and the new electronic music minor. Electronic musics samples are also featured.
EDUCATION
Ph.D. in Music Composition, Michigan State University
Intermediate Certificate, Beijing International Studies University
M.M. in Composition, Southwestern Theological Seminary
B.M. in Composition, University of Tulsa
RECENT COURSE OFFERINGS
MUS 051 Brass Ensemble
MUS 057 Woodwind Ensemble
MUS 107 Fundamentals of Music
MUS 201, 301 & 302 Music Theory I, II & III
MUS 221 Introduction to Electronic Music
MUS 287/288 Independent Study (Composition / Electronic Music)
MUS 387/388 Composition
MUS 401 Senior Seminar
C&T 201 & 202 Cultures and Traditions I & II
RESEARCH
Research Interests
Acoustics of Music
Microtonality
Point-source audio diffusion
RECENT PRESENTATIONS
Recent Performances
Electroacoustic Barn Dance 2011, University of Mary Washington
60x60 Dance 2011: Slippery Rock University, American Arts Experience Festival, St. Louis,
Dance Parade, New York
Electronic Music Midwest 2011 Invitational, Central Michigan University
Society for Electro-Acoustic Music in the U. S. (SEAMUS) 2011National Conference
Electroacoustic Juke Joint 2009, Delta State University
Society for Electro-Acoustic Music in the U. S. (SEAMUS) 2009 National Conference
Society for Composers, Inc. (SCI) 2009 National Conference
Spark Festival of Electronic Music and Arts 2009, University of Minnesota
2008 New Music Hartford, Hartford Art School
Electroacoustic Juke Joint 2008, Delta State University
Electronic Music Midwest (EMM) 2008, Lewis University
International Computer Music Conference (ICMC) 2008, Queens University of Belfast
April 2008 Student Recital, Wabash College
37e Festival Synthèse Bourges 2007, Bourges, France
Presidential Inauguration 2007, Wabash College
2006 Visiting Artist Series Concert by Quartet New Generation, Wabash College
WOBC 91.5 FM, Oberlin, OH, April 3, 2006, 1:32 p.m. Foldover with DJ "ConText"
"Media, New" Symposium 2005, Grinnell College
2005 Spotlight Concert, Wabash College
RECENT PUBLICATIONS
Recent Writing
"SEAMUS 2009 National Conference Review" with Tim Reed, Manchester College in Journal SEAMUS: The Journal of the Society for Electro-Acoustic Music in the United States, Vol. 21, No. 1, Fall 2009
"A Low-Cost Spherical Loudspeaker Array for Electroacoustic Music" in ICMC 2008 Proceedings, pp. 596-99. ISBN 0-9713192-6-x
"A Musical Scale in Simple Ratios of the Harmonic Series Converted to Cents of Twelve-Tone Equal Temperament for Digital Synthesis" in WSEAS Transactions on Computers, Issue 8, Volume 5, August 2006, pp. 1713-19. ISSN 1109-2750
HONORS AND AWARDS
Great Lakes Colleges Association New Directions Initiative Singular Explorations Grant, 2010
McLain-McTurnan-Arnold Research Scholar Award, 2010
"Selectionée," 34e Concours Internationaux de Musique et d'Art Sonore Electroacoustiques de Bourges 2007, Institut International de Musique Electroacoustique de Bourges, France
Liberal Arts Network for Development 2004 Excellence Award for Outstanding Innovation, for innovative teamwork establishing a new Music Technology Lab and infusing technology into the music curriculum
RECENT COMPOSITIONS
It Is I, crooned chant, tambourine, and live digital audio signal processing
Nunc Dimittis, crooned chant, bell, and live digital audio signal processing
Don't Worry 'Bout Me, 60-seconds of electronic music for the Vox Novus 60x60 Project
Blood, Dominion, and Homeland, three movements for solo folk singer, crooner, soprano saxophone, and live digital audio signal processing
Organum on St. Denio, eight-channel digitally synthesized microtonal music for fixed media
The student is expected to conduct himself at all times, both on and off the campus, as a gentleman and a responsible citizen, eight-channel electronic music for fixed media from digital samples of speech and choral song
Elevatorstycke, two miniatures for flute, clarinet or soprano saxophone "Går upp, går ned" and "Rum med sikte"
Body Periodic, digitally synthesized, sampled and processed microtonal music for fixed media
Wellenbewegung, for recorder quartet (soprano, alto, Pätzolds: basset and contrabass)
Two Irish Dances, "Jig: The Persistence of Location" and "Reel: The Destruction of Ways", acoustic instrument(s), automated digital synthesizers, and digital audio samples
Virtual Duet, solo bassoon and electronic sound from digitally edited bassoon samples, in collaboration with bassoonist Susan Nelson
Organum on Ash Grove, digitally synthesized microtonal music for fixed media
Consuming Makes us Free, piano, six hands
The Sorrow of Niobe, Adagio for string orchestra
Les Baptistes englouties, video and digitally synthesized electronic music
Inaugural Fanfare, five-part brass ensemble or brass quintet
The Realm, solo reader and digitally synthesized soundtrack
Games, recorder quartet (soprano, alto, Pätzolds: basset, contrabass, subcontrabass) and video
Accompanied Poetry of Rumi, solo reader, SATB chorus and synthesized microtonal music