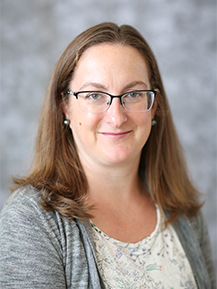 Karen Quandt
BKT ASSISTANT PROFESSOR OF FRENCH
Karen Quandt joined the Wabash faculty in the fall of 2017. She previously taught at the University of Delaware, covering all levels of French from intermediary to graduate levels, and served as a Lecturer of French at Princeton University.
Dr. Quandt's primary research interests involve 19th-century French poetry, particularly the intersections between visual art and literature, and she also works extensively on ecocritical themes in the literature of this period. She enjoys teaching any level of French language or literature, and her courses often take an interdisciplinary approach that seeks to incorporate other areas such as music, art history, and literature of various periods, areas, and genres. She also regularly plans excursions for her classes, and in Fall 2017, will take her FRE 101 and FRE 201 students to an outdoor French film festival in Chicago.
Having been an exchange student on two occasions in high school (for a summer in Paris, France and for a year in Nykøbing Falster, Denmark), as well as a participant in Bryn Mawr's Institut d'Avignon at the end of her undergraduate studies, Dr. Quandt is a big proponent of study abroad. While at the University of Delaware, she served as faculty director for a winter session study abroad trip in Caen, France and is very excited to start organizing immersion trips at Wabash.
Though she mostly busies herself with music, museums, reading, and writing, Dr. Quandt is also a great lover of the outdoors. One of her favorite activities is seeking out good trails and looking for birds, with her two boys and miniature schnauzer in tow.
EDUCATION
Ph.D. in French, Princeton University (2011)
M.A. in French, University of Notre Dame (2001)
B.A. in Art History, University of Notre Dame (2000)
RECENT PUBLICATIONS
"Embodying Ecopoetry: Victor Hugo, Love, and Landscape". Nineteenth-Century Contexts. [forthcoming 2017]
"Victor Hugo and the Politics of Ecopoetics". French Ecocriticism: From the Early Modern Period to the Twenty-First Century, edited by Daniel Finch-Race and Stephanie Posthumus, Peter Lang, 2017, pp. 61-81.
"'Foliis ac frondibus': Les Misérables and the Ecogarden". Les Misérables and its Afterlives: Between Page, Stage, and Screen, edited by Kathryn Grossman and Bradley Stephens, Ashgate, 2015, pp. 33-47.
"Baudelaire and the Poetics of Pollution". Dix-Neuf, 19.3, Nov. 2015, pp. 244-259.
"Elusive Shores: Lamartine and the Art of Poetry". French Forum, 39.2-3, Spring/Fall 2014, pp. 49-64.
"Victor Hugo and Painting: The Exceptional Case of Les Orientales". The Art of the Text: Visuality in Nineteenth- and Twentieth-Century Literary and Other Media, edited by Susan Harrow, U of Wales Press, 2013, pp. 151-169.