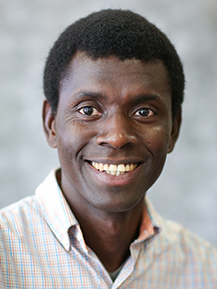 Adrien Pouille
VISITING ASSISTANT PROFESSOR OF FRENCH
EDUCATION
*Ph.D., Indiana University Bloomington (IUB)
*M.A., Université Cheikh Anta Diop (UCAD)
*B.A., Université Cheikh Anta Diop (UCAD)
RECENT COURSE OFFERINGS
*FRENCH 401: Senior Seminar
*FRENCH 312: Special Topics: The City in Francophone African Cinema
*FRENCH 312: Special Topics: Negotiating Identities in the Francophone and Hispanic Caribbean (taught in collaboration).
*FRENCH 312: Special Topics: Stories about Distant Lands in Francophone Fiction
*FRENCH 301: Introduction to Francophone Fiction
*FRENCH 201 & 202: Intermediate French
*FRENCH 102: Elementary French
RESEARCH
*Francophone African Literatures and Cinemas
*World Literature
*Literary and Cultural Theory
RECENT PUBLICATIONS
*"Ambivalent Relation with the Divine in Wole Soyinka's The Road", Ufahamu, 2016
*Saafi-Saafi/English/French Dictionary, with Dr. Robert Botne, Rudiger Koppe Verlag, 2016.
HONORS AND AWARDS
*African Student Research Award, African Studies, IUB.
*Office of International Services Award, IUB.
*Mellon Fellowship, St. Mary's College of Maryland.
*Senegalese Government Scholarship, Université Cheikh Anta Diop.