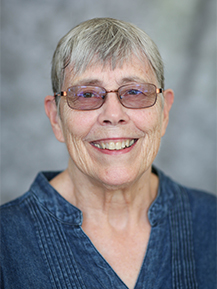 Leslie P. Day
PROFESSOR OF CLASSICS EMERITUS
Leslie Preston Day, Emerita Professor of Classics and Chair of the Department, holds an A.B. degree in Classical and Near Eastern Archaeology from Bryn Mawr College and an M.A. and Ph.D. in Classics from the University of Cincinnati. She offered courses in Greek art and archaeology as well as Latin and Greek at all levels.

Her scholarly speciality is the archaeology of Bronze and Early Iron Age Crete. She is co-director of the Kavousi Project, a multidisciplinary exploration of sites around the modern village of Kavousi in eastern Crete and is currently engaged on the final publication of the settlement and cemeteries at the lower site of Vronda, where she was field director. She has also been making a new study of pottery from the site of Karphi, excavated by the British in the 1930's, and the results will appear in September 2011 as a volume in the British School at Athens Studies series.

She has spent much time in Greece, either at the American School of Classical Studies or the INSTAP Study Center for East Crete and is involved in both research institutions. In 2005-6 she served as Whitehead Visiting Professor at ASCSA.
EDUCATION
A.B., Bryn Mawr
M.A., Ph.D., Cincinnati
RECENT COURSE OFFERINGS
Elementary Greek 2008-09
Greek Art and Archaeology, Fall 2009
Freshman Tutorial: Mummies and Monotheists. Egypt in the Age of Akhenaten, Fall 2009
Classics 212: Crete, Mycenae, and the Eruption of Santorini, Spring 2008
Classics 211: Mens Sana in Corpore Sano: Healing in the Ancient World, Fall 2006
RECENT PRESENTATIONS
"Appropriating the Past: Early Iron Age Mortuary Practices at Kavousi, Crete" presented at The "Dark Ages" Revisited: an International Symposium in Memory of William D.E. Coulson, Volos, Greece, June 16, 2007.
RECENT PUBLICATIONS
The Pottery from Karphi: A Re-examination (BSA Studies 19), London.

Kavousi IIA. The LM IIIC Settlement at Vronda. Houses on the Summit (Philadelphia: INSTAP Academic Press 2009).

Kavousi I. The Kavousi-Thrifti Survey by Donald Haggis, G.C. Gesell and L.P. Day editors (Philadelphia: INSTAP Academic Press 2005) (with Nancy Klein and Lee Ann Turner).

Crete Beyond the Palaces: Proceedings of the Crete 2000 Conference (Philadelphia: INSTAP Academic Press 2004)(with Margaret Mook and James Muhly).

Pella of the Decapolis, II. Final Report on the College of Wooster Excavations in Area IX, The Civic Complex (College of Wooster,1989)(with Robert H. Smith)

Recent Articles:
"Ritual Activity at Karphi: A Reappraisal," in Archaeologies of Cult: Essays on Ritual and Cult in Crete (Hesperia Supplement 42), edited by A. L. D'Agata and A. Van de Moortel, pp. 137-151.

"It Does Take a Brain Surgeon: a Successful Trepanation from Kavousi, Crete ," in New Directions in the Skeletal Biology of Greece (Occasional Wiener Laboratory Papers 1), edited by L. Schepartz, S. Fox, and C. Bourbou pp. 57-74 (with Maria Liston).

Response to Joseph Maran's paper, "Late Minoan Coarse Ware Stirrup Jars on the Greek Mainland: A Post-Palatial Perspective from the Argolid in the 12th Century," in Ariadne's Threads: Connections between Crete and the Greek Mainland In the Post Palatial Period (Late Minoan IIIA2 to Sub-Minoan) L. D'Agata and J. Moody , eds., (Athens 2005), pp. 433-439.

"The 'Big House' at Kavousi and the 'Great House' at Karphi: Evidence for Social Structure in LM IIIC Crete," in Crete Beyond the Palaces: Proceedings of the Crete 2000 Conference, L. Day, M. Mook, and J. Muhly, eds. (with Lynn Snyder) (Philadelphia 2004) pp. 64-79.
HONORS AND AWARDS
Charles D. and Elizabeth S. LaFollette Distinguished Professor in the Humanities, emeritus