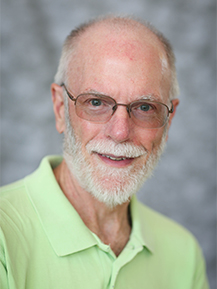 Joseph W. Day
PROFESSOR OF CLASSICS EMERITUS
Joseph Day retired from regular teaching at Wabash in 2011; he is now pursuing his research interests full time, although he will return to the Wabash classroom to teach the Classics senior seminar ("Talking to gods") in spring 2014.

Day first came to Wabash in 1983, after earning his B.A. in Classics from Gonzaga University and his M.A. and Ph.D. from Stanford University. His wider interests include Greek and Latin language and literature, ancient history, Greek religion, and Greek athletics. In May 2011, he led his Greek athletics seminar to Greece for a 10-day trip around major sites and museums at Athens, Delphi, Olympia, Nemea, and Isthmia. He has frequently been a visiting senior member of the American School of Classical Studies at Athens (Greece), where he was awarded an NEH fellowhip for 2000-01 and served as Whitehead Visiting professor in 2011-12.
EDUCATION
B.A. 1970, Gonzaga University
M.A. 1974, Ph.D. 1978, Stanford University

RESEARCH
Joseph Day's research has long focused on Greek epigram, that is, inscriptions in poetic meter, especially from the Archaic and early Classical periods. He has worked on public epigrams and private epitaphs and dedications (gifts to gods deposited in sanctuaries). Day has developed a thesis that reading epigrams while viewing the inscribed object (often a statue) constituted a kind of reperformance. Encounters with grave markers repeated key effects of the funeral, and those with dedications constituted a reperformance of the rite of dedicating. Work on early dedications culminated in a book entitled Archaic Greek Epigram and Dedication: Representation and Reperformance, which was published by Cambridge University Press in 2010. He is now pursuing other epigrammatic topics: first, he is turning into publishable form the conference papers listed in the next section; soon, he will begin work on a chapter about the origin of Greek epigram for the Blackwell Companion to Ancient Epigram.
RECENT PRESENTATIONS
In January 2012, Joseph Day delivered a lecture in the Director's Lecture Series at the American School of Classical Studies at Athens (Greece): "A Muse on Stone or an 'Un-read Muse': Did Ancient Greeks Read Epigrams?" He argued that they did!
In September 2012, Day delivered a keynote lecture at the "Materiality of Text" conference at Durham University (England): "The 'Spatial Dynamics' of Archaic and Classical Greek Epigram: Conversations among Location, Monument, Text, and Viewer-Reader." In this paper, he demonstrated how monuments and inscriptions interacted with each other in the experience of ancient visitors to sanctuaries. In August, he delivered a short version of this paper at the XIV International Congress of Greek and Latin Epigraphy in Berlin (Germany), and in January 2013 he delivered another version of it for the Department of the Classics, University of Illinois at Urbana-Champaign.
In January 2013, Day delivered a paper, "The Lithic Muse: Inscribed Greek Poetry in the Classroom," in "Teaching History and Classics with Inscriptions," a panel sponsored by the Association of Ancient Historians at the annual meeting of the American Philological Association in Seattle.
In September 2013, Day lectured at the "Greek Literary Epigram" conference at University College London (England) on "Reading Inscriptions in Literary Epigrams." He argued that images of reading in literary epigrams constituted evidence that inscribed epigrams were actually read. A podcast of this conference is available: http://www.ucl.ac.uk/classics/engagement/greek_literary_epigram
RECENT PUBLICATIONS
Archaic Greek Epigram and Dedication: Representation and Reperformance. Cambridge University Press, 2010.

"Servants of the Goddess: Female Religious Functionaries in Archaic and Fifth-century Greek Epigram and Dedication," in L'Épigramme dans tous ses états: épigraphiques, littéraires, historiques: actes du colloque international, 3-4 Juin 2010, edited by L. Foschia and L. Santin. E-publication in progress with ENS-Lyon.

"Epigraphic Literacy in Fifth-Century Epinician and its Audiences," in Inscriptions and their Uses in Greek and Latin Literature, edited by P. Liddel and P. Low. Oxford University Press, 2013. Pages 217-230. http://ukcatalogue.oup.com/product/9780199665747.do
"Poems on Stone: The Inscribed Antecedents of Hellenistic Epigram," in P. Bing and J. S. Bruss, editors, Brill's Companion to Hellenistic Epigram: Down to Philip. Leiden: Brill, 2007. Pages 29-47.

"Epigram and Reader: Generic Force as Reactivation of Ritual," in M. Depew and D. Obbink, editors, Matrices of Genre: Authors, Canons, and Society. Cambridge, Mass: Harvard University Press, 2000. Pages 37-57, 248-254.

"Interactive Offerings: Early Greek Dedicatory Epigrams and Ritual," Harvard Studies in Classical Philology 96 (1994) 37-74.

"The Poet's Elpis and the Opening of Isthmian 8," Transactions of the American Philological Association 121 (1991) 47-61.

"Rituals in Stone: Early Greek Grave Epigrams and Monuments," Journal of Hellenic Studies 109 (1989) 16-28.

"Epigrams and History: The Athenian Tyrannicides, A Case in Point," in The Greek Historians (Stanford 1985) 25-46.
HONORS AND AWARDS
In 2010, Prof. Day was awarded Wabash's McClain-McTurnan-Arnold Award for Excellence in Teaching.
In 2009, he was awarded the Indiana Classical Conference's "College Teacher of the Year" award.
In 1994, he held (jointly with Prof. Leslie Preston Day) Wabash's McClain-McTurnan-Arnold Research Fellowship.
In 1984-85 and again in 2000-01, he held research fellowships from the National Endowment for the Humanities, and in 1980 he participated in an NEH seminar on Byzantine Greece, all three at the American School in Athens.
In 1970, he was awarded a Woodrow Wilson Fellowship.
SELECTED LINKS