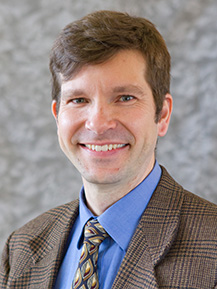 Walter Novak
ASSOCIATE PROFESSOR OF CHEMISTRY
Wally Novak arrived at Wabash in 2009, after a postdoctoral fellowship in X-ray crystallography at Brandeis University. Prof. Novak's expertise is in the area of biochemistry and his research focuses on the study of proteins found in pathogenic bacteria, particularly transcriptional regulators and small-molecule kinases. Prof. Novak enjoys homebrewing and recently taught an advanced class on the Biochemistry of Fermentation. Outside the classroom and lab, Prof. Novak is co-advisor to the Theta Delt Fraternity, and he enjoys attending faculty dinners, sporting events and the occasional game of ultimate frisbee.
In his free time, Prof. Novak enjoys spending time with his wife and three children, who can also often be found on campus. He has a variety of other interests such as cooking, astronomy, gardening, and maintaining their home which was built in 1892.
EDUCATION
NIH Postdoctoral Fellow, Brandeis University 2004-2009
Ph.D. in Chemistry and Chemical Biology, University of California at San Francisco, 2004
B.A. summa cum laude in Chemistry, Southern Illinois University at Edwardsville, 1997
RECENT COURSE OFFERINGS
CHE 101 – Introductory Chemistry
CHE 111 – General Chemistry
CHE 221 – Organic Chemistry I
CHE 321 – Organic Chemistry II
CHE 361 – Biochemistry
CHE 461 – Special Topics in Biochemistry (recent topics include Fermentation and Nuclear Receptors)
CHE 462 – Advanced Biochemistry
Enduring Questions
RECENT PUBLICATIONS
*Granger JB, *Lu Z, *Ferguson JB, *Santa Maria PJ, Novak WRP. Cloning, expression, purification and characterization of an iron-dependent regulator protein from Thermobifida fusca. Protein Expr Purif. 2013 Sep 29;92(2):190-194.
Andrews F.H., *Tom A.R., *Gunderman P.R., Novak W.R.P., McLeish M.J.. A bulky hydrophobic residue is not required to maintain the v-conformation of enzyme-bound thiamin diphosphate. Biochemistry. 2013 May 7;52(18):3028-30.
Brodkin, H., Novak, W.R.P., Milne, A., D'Aquino, J.A., Karabacak, N., Agar, J., Payne, M., Petsko, G.A., Ondrechen, M.J., Ringe, D. Evidence for Participation of Remote Residues in the Catalytic Activity of Co-type Nitrile Hydratase from Pseudomonas putida. Biochemistry, 2011. 50(22):4923-4935.
Lazar, L., Fisher, S.Z., Moulin, A., Kovalevsky, A., Novak, W., Langan, P., Petsko, G., Ringe, D. Time of-flight neutron diffraction study of bovine gamma-chymotrypsin at the Protein Crystallography Station. Acta Crystallographica F, 2011 67:587-590.
Novak, W.R.P., A.G. Moulin, M.P. Blakeley, I. Schlichting, G.A. Petsko and D. Ringe. A preliminary neutron diffraction study of γ-chymotrypsin. Acta Crystallographica F, 2009. 65:317-320.
Akana, J., A.A. Fedorov, E. Fedorov, W.R. Novak, P.C. Babbitt, S.C. Almo and J.A. Gerlt. D-Ribulose 5-phosphate 3-epimerase: functional and structural relationships to members of the ribulose-phosphate binding (beta/alpha)8-barrel superfamily. Biochemistry, 2006. 45(8):2493-503.
Novak, W.R.P., P.-F. Wang, M.J. McLeish, G.L. Kenyon and P.C. Babbitt. Isoleucine 69 and Valine 325 Form a Specificity Pocket in Human Muscle Creatine Kinase. Biochemistry, 2004. 43(43):13766-74.
*Indicates undergraduate coauthor
HONORS AND AWARDS

NSF DUE Award 1140711, Co-PI with Ann Taylor - Fostering Remembering: Enhancing Student Retention of Prerequisite Knowledge through Preclass Activities and Process Oriented Guided Inquiry Integrated Case Studies $127,921
NIH Ruth L. Kirschstein NRSA Post-Doctoral Fellowship
Burroughs Wellcome Fellowship in Quantitative Biology
Phi Kappa Phi Honor Society
National Research Training Grant in Pharmaceutical Chemistry
Class of 1997 Student Speaker
Donal G. Meyer Outstanding Student in Chemistry Award
Society of Physics Student Underclassman Award
Army Achievement Medal
Army Reserve Component Achievement Medal