Political Science
Research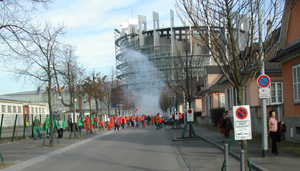 Wabash political science majors produce original research in the required Senior Seminar (PSC 497), in independent study classes, and while working with individual faculty on their research projects. In recent years they have examined:
whether democratic nations are more peaceful toward other nations than nondemocratic nations,
the extent to which election-day voter registration or the elimination of voter registration increases voter turnout in elections,
the effects of gerrymandering on the competitiveness of elections for the Indiana state legislature,
changes in political opinions and candidate evaluations after the 2000 Presidential election, and
the phenomenon of Hispanic migration to Crawfordsville and Mongtomery County.
While we do not usually award course credit for internships alone, we do encourage and assist students interested in internships.