Music
Research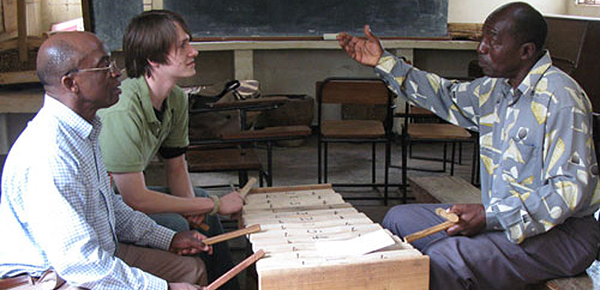 Undergraduate research constitutes an important component of the course of study for our music students. Working closely with faculty members during the academic year, students have become involved with research in electronic music, ethnomusicology, and historical musicology. The papers and projects which result from these research activities are often presented at the annual College-wide Celebration of Student Research, a major event in the life of the College.
Music department courses foster various types of student research. Students have recently explored the Duke Ellington archive at the Lilly Library on campus, researched and performed portions of a Medieval manuscript that had not been heard in hundreds of years, and collaborated with Wabash's physics department on instrument-building projects. Music majors also undertake a substantial research project during the Senior Seminar, in which students select a topic in either historical musicology or ethnomusicology and write an in-depth, extended paper.
As an enhancement to the research component, the Department encourages students to travel off-campus and to immerse themselves in different countries and world cultures, either in the summer or as part of a junior year off-campus study program. The combination of travel and study offers invaluable opportunities for academic, cultural, and performance music experiences. Students may also arrange to serve as apprentices to professional musicians and/or arts managers. Off-campus study, whether national or international, may be facilitated by a Dill Grant and/or the Undergraduate Research Program.