Speakers & Events AT
WABASH
An Intellectually Vibrant Community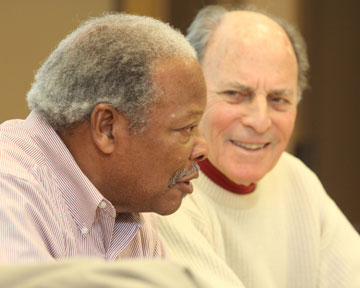 At Wabash, we believe that a liberally educated man should be intellectually curious and have a passion for learning. That's why we pack the calendar full of visiting artists, speakers, and events designed to stretch your mind and your heart.
Ours is an intellectually vibrant community where you'll not only have the opportunity to hear a famous speaker give a talk, but you'll meet that person in class the next day or have dinner with them that night. When visiting artists come to campus, they don't just give a spectacular performance, they provide workshops and instruction for students interested in — or just curious about — the arts.
Wabash is a place where students do the talking, too. Opportunities abound for students to test their debating skills (Moot Court, British Debate, Baldwin Oratorical Contest), share their research with the community (Celebration of Student Research, Scholarship, and Creative Work and departmental Poster Sessions), and celebrate their artistic gifts (theatrical performances, ensemble concerts, and student recitals).
Most departments have endowed lectureships, which provide annual opportunities for students from across the college to learn about specific disciplines. And every week there are departmental colloquies, seminars, lectures, and brown bag lunch talks — from biology to technology.
Here are a few recent examples: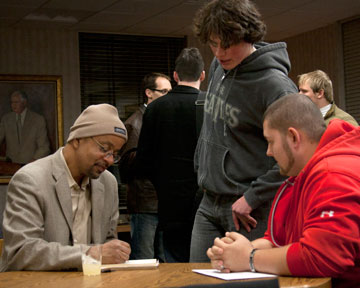 Visiting Artists Series
Indianapolis Baroque Orchestra, Second City, Pilobolus Dance Theater, Preservation Hall Jazz Band, Royal Shakespeare Company, Circo Aereo, and Rusell Banks.
Endowed Lectureships & Performances
Brigance Forum, Rogge Lecture, LaFollette Lecture, Jack Charles Lecture in Classics, Haines Lecture in Biochemistry, Roger Ide Organ Recital, Bankart Gender Series, and Cole Biology Lecture Series.
Departmental and Divisional Programs
Humanities Colloquium, Biology Seminar, Tech Talks, Chemistry Seminar, Social Science Colloquium, Society of Physics Students Demo, and Math & Computer Science Colloquium.
Student Events
Wabash Theater, Biology Poster Session, Wamidan World Music Ensemble, Glee Club, Senior Art Exhibition, Celebration of Student Research, Scholarship, and Creative Work, Chemistry Poster Session, Chamber Orchestra, Studio One-Acts, Senior Recitals, Experimental Psychology Poster Session, Jazz Improv and Jazz Combo, and Moot Court.