English
Scholarships & Awards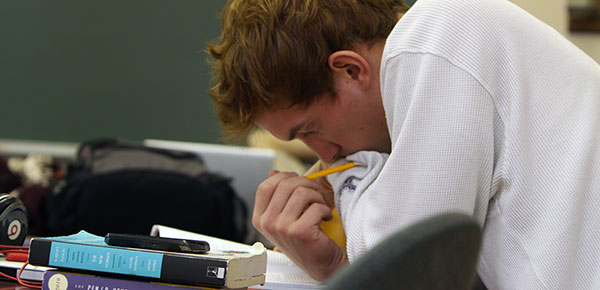 NEW STUDENT SCHOLARSHIPS
The Fine Arts Fellowship Program at Wabash was established in 1987 to encourage the development of the fine arts within a rigorous liberal arts context. Wabash is looking for students who show genuine promise as artists, actors, musicians, or creative writers and wish to pursue an education at one of the nation's finest liberal arts colleges. After a competitive application and audition process, Fine Arts Fellowships are offered each year to students with demonstrated ability in one or more of the following: visual arts, creative writing, music, and theater. Fine Arts Fellows receive tuition grants worth up to $15,000 per year, regardless of financial need.
CURRENT STUDENT SCHOLARSHIPS
Several annual awards recognize outstanding writing in different disciplines taught and supported at Wabash College.
Walter J. Fertig Prizes in Freshman Writing This prize is given annually to three members of the freshman class for distinguished pieces of expository or creative writing nominated by the members of the faculty and judged by the English Department.
Ruth Margaret Farber Award in English This prize is awarded to the member of the junior class who has shown the most promise as a student of English or American literature.
Walter J. Fertig Prize in English This prize is given annually to a member of the senior class who, in the judgment of the English Department, has accomlished distinguished work in his study of English and American Literature.
Robert S. Edwards Creative Writing Award This prize is given annually to that member of the junior or senior class who demonstrates the greatest skill and originality in created writing in a course offered by the English Department.
Nicholas McCarty Harrison Essay Award This prize is for students who submit the best essays in the field of American studies.
The Robert O. Pettty Prize in Writing, established by Dr. W. Franklin Harris (Class of 1964) in memory of Dr. Petty, Professor of Biology at Wabash from 1959-1990, is given annually to encourage and recognize student writing that draws on the fertile boundary of the sciences and the humanities. An ecologist, as well as a poet and nature writer, Professor Petty held that "only at the margins of knowledge can we discover some essential, critical perspective of the field we labor in, and come to a better definition of what lies at the center..." His quest for a truer perception of our place in nature and nature's place in us was what mattered most.
The Patterson-Goldberger Freshman Journalism Award, established by professor of English Thomas P. Campbell and his family, is presented to the member of the freshmen class who, in the opinion of the Board of Publication, has contributed most significantly to journalism in his first year at Wabash College. The prize honors Thomas McDonald Patterson, 1865, who owned Denver's Rocky Mountain News, and Alexander Goldberger, 1925, who as chairman of the Board of Publications while a student at Wabash established the College as a member of Pi Delta Epsilon national journalism society.
Jim Leas Outstanding Student Journalism Award This cash award is given to that student who best exemplifies those standards of journalistic excellence which Jim Leas demonstrated in his 20 years of sports writing.