Technology
iPad Pilot
iPad Pilot Project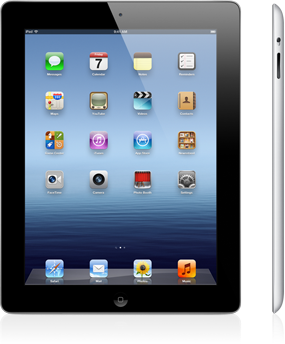 IT Services, with support from the Technology Advisory and Teaching and Learning Committees, will run an iPad program for the fall 2013 and spring 2014 semesters. We're looking to support courses in which students use iPads in and out of class. The goal of the program will be to assess the value and effectiveness of iPads in the classroom, and for student use. For the courses selected to participate, we will provide an iPad (3rd generation) for the instructor and each student in the course to keep for the entire semester.
Faculty and students who participate in the program will be expected to participate in a range of assessment activities, some of which faculty will self-identify in their proposal, and others that will involve all program participants.
Number of Courses and Students Involved
We anticipate supporting three or four courses each semester, utilizing 65 iPads total. We've not set a maximum course enrollment for the pilot program, but given these limits, it is unlikely that we could support a course with an enrollment much above 20 students.
Call for Proposals, Fall 2013: Deadline May 10, 2013
To submit a proposal for a Fall 2013 course, complete the iPad Proposal Form and return to Jamie Ross at rossja@wabash.edu by May 10, 2013. If you would like to discuss your proposal or talk about how you might most effectively use iPads in your course, or if you would like to borrow an iPad to help with preparing your proposal, please contact Kitty Rutledge at rutledgk@wabash.edu, 765-361-6174.
Proposal Review and Selection
Proposals will be reviewed by IT Services, the Technology Advisory Committee, and the Dean and Division Chairs. We will notify the faculty of which proposals have been selected by end of May.
Project Coordinator
Kitty Rutledge, IT Services Client Services Manager, will coordinate the iPad project. Please direct any questions about the project to Kitty at rutledgk@wabash.edu, 765-361-6174.
Sping Semester iPad Pilot
Five courses are using iPads in the classroom for the spring semster:
Spanish 102, Elementary Spanish; Marc Welch
English 397, Critical Reading; Agata Brewer
Spanish 301, Conversation & Composition; Gilberto Gomez
FRC 2013, Enduring Questions; Bob Royalty
English 109, World Literature in Translation; Agata Brewer
Other colleges and universities with iPad initiatives
Reed College
Oberlin College
Lehigh University
Pepperdine University
Long Island University
Seton Hill University
Northwest Kansas Technical College
Abilene Christian University
18 Enlightening iPad Experiments in Education