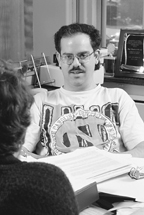 Wabash Economics
Professor Bert Barreto

nethical business practices and consumer rip-offs have inspired scores of programs and regulations in countries all over the world.

Wabash College economist Bert Barreto believes most of them miss the mark.

But when he was invited to speak to a group of business leaders, professors, and students from former Soviet States, he wasn't sure how well his own economic approach to business ethics would be received.

"I wondered how they'd respond to criticisms of Marx," says Barreto, who presented his paper entitled "Individual Responsibility and Systemwide Results" to the Decisions 2000 Conference in Warsaw, Poland. "I wondered if they weren't going to call what I said just a bunch of capitalist garbage or something."

Barreto's paper finds fault with the utopian Marxist approach of encouraging ethical behavior. He described as an "elusive wish" this philosophy that was once at the heart of the Eastern bloc economies.

The Wabash economics professor also criticized the coercive practices of monitoring and regulation most often employed in Western democracies.

"Neither transformation of human behavior nor central control is needed," Barreto said as he outlined an economic model that draws on the works of Adam Smith, John Maynard Keyes, and Michael Spence's research on "signalling behavior."

Barreto cited an example of how this behavior has worked to cure one of the most notorious of business transactions--the selling of used cars. In his example, the offer of a warranty on the car serves as a "signal" to the potential buyer that the seller is honest. The results are more sales and more satisfied customers--honest transactions in the best interests of buyer and seller.

So how did his audience receive Barreto's words?

"It turns out that the people there were your basic aggressive, business, economics, and free market students." Barreto laughs as he recalls the positive comments he received from students and business leaders alike.

"They've got Proctor & Gamble sponsoring the conference and BMW minivans carrying people around," he says. "They were coming up and asking me how to make a million dollars in the stock market and giving me their chamber of commerce literature."

With many Eastern European nations converting to a free-market system, and countries like Latvia and Estonia moving toward the "no-holds barred" economies of some Pacific Rim states, Barreto believes his theory may be particularly timely.

Later in the conference, the former winner of the College's Excellence in Teaching Award was given the chance to demonstrate his department's method of teaching Quantitative Statistics using the Microsoft Excel computer program. The enthusiastic response of students and professors to the presentation has encouraged the professor to make the department's materials available on his department's Worldwide Web homepage. He hopes to have coursework and available on the Web by the end of summer 1997.

Barreto's trip was sponsored by AIESEC, which also sponsored the conference at the Warsaw School of Economics.