College's Leadership Program puts Wabash Men on the Ropes
"Listening to What Everyone Has to Say" First Goal For New Dean of Students"
Survey Shows Wabash Seniors More Satisfied Than Peers with Collegiate Experience
$2.4 Million Lilly Grant Allowing Wabash to Address State-Wide Problems in Higher Education
Pierce Klemmt's Baccalaureate Sermon
Web Special: Deon Miles' Commencement Address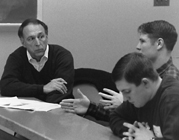 Trustee Joe Barnett disusses
fraternity issues with current
Wabash students.

n March, an Ad Hoc Trustee Committee on Fraternity Facilities held two meetings with students, alumni fraternity representatives, and members of the College administration as part of recent efforts to address the long-term strength of the Wabash fraternity system as it relates to facilities. According to trustee committee chair Joe Barnette '61, the March 2 session was an opportunity to listen to the thoughts and concerns of student fraternity leadership regarding fraternity facilities and lease arrangements. A follow-up March 23 session among students, administration, housing corporation officials, and trustees focused on three areas of discussion: responsibilities and cost considerations related to fraternity leases; future facility needs; and expectations of all sides regarding future relationships between the College and fraternities.

The March meetings prompted immediate steps to begin to strengthen the position of the fraternities into the next century. The first initiative is this summer's fraternity fix-up, which will "bring [the fraternities] up to an acceptable level of repair," according to Dean of Students David Hadley. During the spring semester, the dean and associate dean, campus services, alumni advisors, and house managers performed a room-by-room assessment of items requiring repair in the nine college-owned houses. This walk-through resulted in a 1750-item list of needed repairs, ranging from changing light bulbs and fixtures to major plumbing work. Summer repair work began in the Lambda Chi Alpha house in late May and will finish with Tau Kappa Epsilon in August.

A second initiative is the development of training sessions by the Dean of Students, campus services, and the business office for fraternity presidents, treasurers, and house managers. These sessions will cover topics including budgeting, dues collection, using purchase orders, and work orders. The training sessions are expected to take place August 25-26 and in early September.

Trustee David Shane '70 says the recent meetings and subsequent plans of action mark a "resurgence of the balance freedom and responsibility in student living in the fraternities." He adds, "It was reaffirming to observe students, administration and alumni engaging in the traditional exploration of issues that takes place at Wabash...where students took the leadership role in identifying challenges and opportunities related to the care and responsibility for their Wabash homes."

According to Hadley, the recent activity to address outstanding fraternity issues will offer other benefits. "The College and the fraternities have an interest in developing a Greek residential system which will be competitive with the dorms and facilities offered at other schools." Including the fraternities in the College's campus facilities planning will be a strong step in that direction.

In addition to trustees Barnette and Shane, the members of the Ad Hoc Trustee Committee include Stephen Bowen '68, David Orr '57, Joseph Turk, and John Schroeder '69. Board President Charles Goering '51 also participated in the meetings.