Career Services
Alumni Involvement
Alumni/Student Networking "Mentor" System
Our online networking system provides you the best opportunity to make an immediate impact on student success and preparedness. Through this password-protected system, you choose the specific reasons you may be contacted, how often your information can be accessed monthly, and your preferred method of contact (email or phone).
Students (and alumni job seekers) search the system for networking contacts, career and graduate school advice, relocation tips, and job and internship search advice. Alumni are the best resource for such assistance, and with your participation, we can offer our students and alumni access to your invaluable expertise and connections.
To participate, complete a short (5-minute) registration process, including completion of a biographical profile. To register, click on " Alumni/Student Networking System". Fill out the form and submit. After we enter you in the system you will receive an email with your username and password so that you may keep your information up-to-date.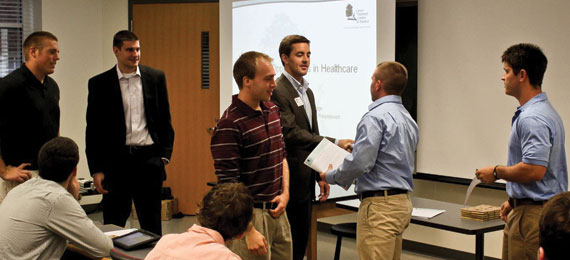 Hire Wabash
When you are seeking employees or interns, look no further than your alma mater. We'll post your position listing at no charge and also send targeted heads-up emails through our system to alert our users of your opportunity. We conduct resume referrals for alumni on a regular basis as well. You are also welcome to set up On-Campus Interviews, Information Sessions, and/or participate in our annual WorkIndy or WorkChicago Interview Days. To discuss the possibilities and the best ways for you to recruit, contact Scott Crawford at crawfors@wabash.edu, 765-361-6355.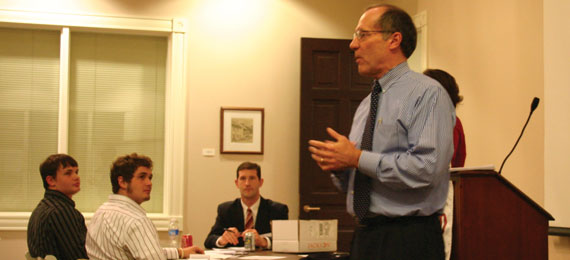 Offer an Externship
An externship is a type of internship designed to enrich a student's understanding of a vocation or activity through a brief, immersive, first-hand experience. Externships provide a flexible way for all students to better understand potential vocational options, experiment with new possibilities, and test how their interests and skills apply in particular jobs. Add an externship to our database of student opportunities, and help them learn more about what they can do with their Wabash education. More information about externships can be found here. To add your externship to our database, please fill out the survey here. Contact James Jeffries with any questions at jeffriej@wabash.edu.

Share Your Expertise In Person (On or Off Campus)
We provide an ongoing series of opportunities for you to connect with students – the possibilities are endless. Host an organization or graduate school site visit, conduct Mock Interviews on campus, participate as an Executive-in-Residence for a day or two, speak to academic or student groups, participate in a job search/graduate school information panel, sign up for a Student/Alumni Golf Tournament, etc. We create new opportunities on a continuous basis. Just let us know you're interested and we will connect you with the perfect opportunity that fits your schedule. Contact Scott Crawford at crawfors@wabash.edu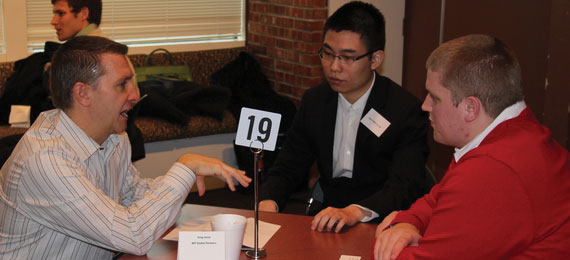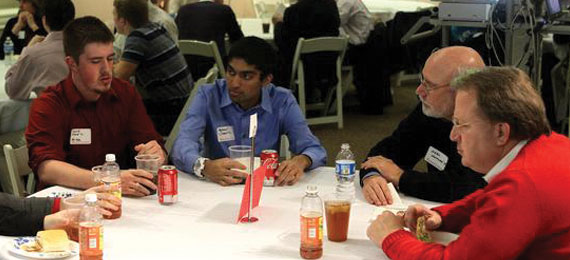 Alumni/Student Networking Events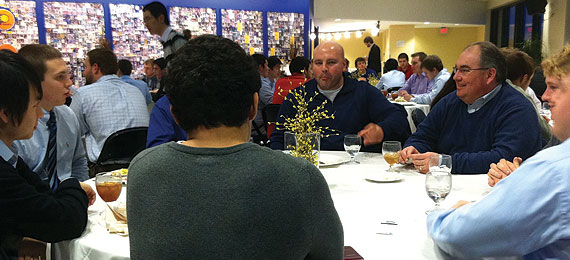 We've launched a series of events to bring students to your city or area for networking purposes. The events are designed to connect students with alumni who can provide career and graduate school advice, job search/industry tips, and internship/job connections.
Alumni have the opportunity to connect with each other as well. Each year we host events in Chicago, Indianapolis, and New York City and plan to repeat those events. If you would like us to schedule an event in your area or want to make sure you're invited to one of the events listed above, contact Scott Crawford at crawfors@wabash.edu