Career Services
Alumni Involvement
Alumni/Student Networking "Mentor" System
Our online networking system provides you the best opportunity to make an immediate impact on student success and preparedness. The mentor system has recently been moved to our new recruiting software, Handshake. This social media-like platform will allow mentors and mentees to message one another directly within the site.
Students (and alumni job seekers) search the system for networking contacts, career and graduate school advice, relocation tips, and job and internship search advice. Alumni are the best resource for such assistance, and with your participation, we can offer our students and alumni access to your invaluable expertise and connections.
To participate, please complete a short (5-minute) registration process.
1. Go to: https://wabash.joinhandshake.com/register
2. Fill out the basic account information. Make sure you select mentor for the type of account.
3. A confirmation email will be sent to the email you provide during the registration.
4. After the confirmation process, you will be able to sign-in using the username and password you created.
5. Once you have done all of these, we will activate your mentor account from our side and you can start connecting with Wabash students and other alumni!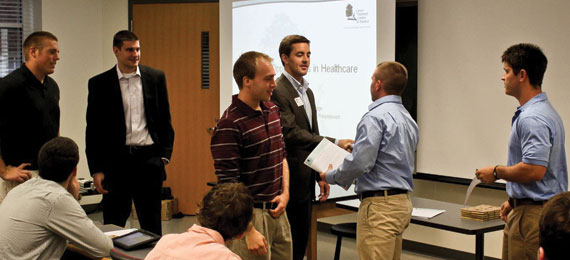 Hire Wabash
When you are seeking employees or interns, look no further than your alma mater. We'll post your position listing at no charge and also send targeted heads-up emails through our system to alert our users of your opportunity. We conduct resume referrals for alumni on a regular basis as well. You are also welcome to set up On-Campus Interviews, Information Sessions, and/or participate in our annual WorkIndy or WorkChicago Interview Days. To discuss the possibilities and the best ways for you to recruit, contact Scott Crawford at crawfors@wabash.edu, 765-361-6355.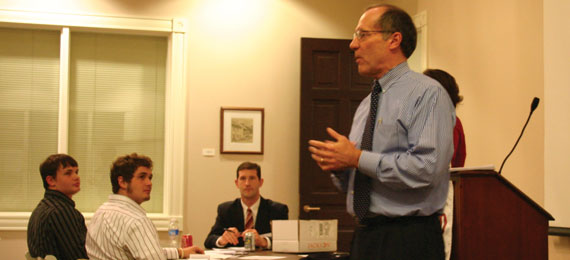 Offer an Externship
An externship is a type of internship designed to enrich a student's understanding of a vocation or activity through a brief, immersive, first-hand experience. Externships provide a flexible way for all students to better understand potential vocational options, experiment with new possibilities, and test how their interests and skills apply in particular jobs. Add an externship to our database of student opportunities, and help them learn more about what they can do with their Wabash education. For more information, questions, or to sign up to host a Wabash student for an externship, please contact Cassie Hagan at haganc@wabash.edu.