Alumni
Indianapolis Association of Wabash Men
Ad Hoc | News | The Board | Contact | History

The Indianapolis Association of Wabash Men serves the largest concentration of Wabash College alumni located in the Indianapolis metropolitan area. This constitutes around 2,000 alumni or nearly 20% of all alumni. The IAWM board encompasses a broad generational, geographical, and professional diversity. Annually, we sponsor several diverse and exciting events and services for the Wabash community.
Join us as we gather for camaraderie, enlightenment, celebration, and support of Wabash College and its students.
Upcoming Events
FEBRUARY 8, 2014 WINTER BASH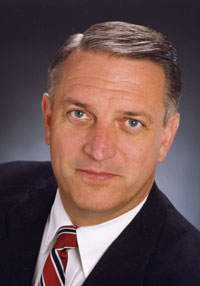 The IAWM invites you and your guests to our annual fête honoring our Man of the Year, Ted Grossnickle '73.
This year's event takes place on the 5th floor of the Regions Bank Tower (211 N. Pennsylvania St.). There will be free parking in its outdoor lot on New York St.
Cocktails (cash bar) begin at 6 p.m.
Dinner commences at 7.
Cost is $60 per person; $50 for alumni of the classes of 2008-2013 and their guests.
Dress is business attire.
Please RSVP by February 1 to Michele Ward at (765) 361-6369, email her at wardm@wabash.edu, or mail a check payable to IAWM to the Alumni and Parent Relations Office, Wabash College, P.O. Box 352, Crawfordsville, IN 47933. We accept Visa, MasterCard, American Express, and Discover.
Contacts: Dustin DeNeal '04 (Dustin.DeNeal@faegrebd.com) and Keenan Blanchford '98 (keenan.blanchford@nm.com)
FEBRUARY 21, 2014 WALLY TUNES SYMPOSIUM
Mark your calendar for the 5th annual symposium in which alumni, faculty, and staff work together to develop and strengthen the ties among each of us while collaborating in a fun demonstration of the breadth and depth of the liberal arts. Topics in prior years were baseball, food, the automobile, and the movies.
This year's event is entitled Wally Tunes: A Wabash Symposium on Music and the Liberal Arts and takes place at the Wabash College Fine Arts Center.
OPENING SESSION
1:00 p.m. –– Salter Hall
Dr. Peter Hulen – "Wally Gets Analytical"
What Happens When a Student Dissects Music?
CONCURRENT COLLOQUIA SESSIONS
1:45 p.m. to 4:45 p.m.
Korb Classroom
Salter Hall
1:45 p.m.

Dr. Richard Bowen
"Pop Music of the 1960s: Music When the Words Mattered"

Philip Seward '82
"Musical Storytelling: From Avant-Garde to Contemporary Music Theatre"
2:30 p.m.
Dr. Christie Byun
"The Economics of the Popular Music Industry"
Andrew McKone '07
"The Luthier's Craft & Violin Making in the 21st Century"
3:15 p.m.
Professor Kristen Strandberg
"Duke Ellington at Wabash"
Gordon Bonham '80
"Where Blues Meets the Banjo"
4:00 p.m.
Dr. Jeff Mehltretter Drury
"What's Going On? The Function of Music in the 1960s Student Movement"
Eric Stark '88
"…The Old Lie…" How Sophomore C&T Haunts My Life as a Musician, or, The Reluctant Conductor's Guide to the music of Benjamin Britten and the Poetry of WWI Soldier Wilfred Owen
4:45 p.m.
Rick Fobes '72
"Band on the Run"…Thoughts and Insights for Creating a Band, Making it Successful, and…Having the Time of Your Life!
Dr. James Makubuya
"Folk Instruments: Their Multidisciplinary Roles as Windows and Mirrors"
FINALE SESSION
5:45 p.m. – Salter Hall
Allen Schulz '87, Diane Norton & Prof. Kristen Strandberg
"Working Together in Separate Spaces"
RECEPTION
6:30 p.m. – Fine Arts Center
CONCERT
7:30 p.m. – Salter Hall
The concert will feature performances by Dr. Peter Hulen, Dr. James Makubuya, Gordon Bonham '80 and Philip Seward '82.
All colloquium sessions are free and open to the public. Reception is $15 per person. RSVP by February 17. Register online here or contact Michele Ward at 765-361-6369 or wardm@wabash.edu.

Contacts: Jon Pactor '71 (pactorlaw@iquest.net) and Brad Johnson '71 (fbjohnson@ijtklaw.com)
MARCH 4, 2014 PACERS ALUMNI-STUDENT NETWORKING EVENT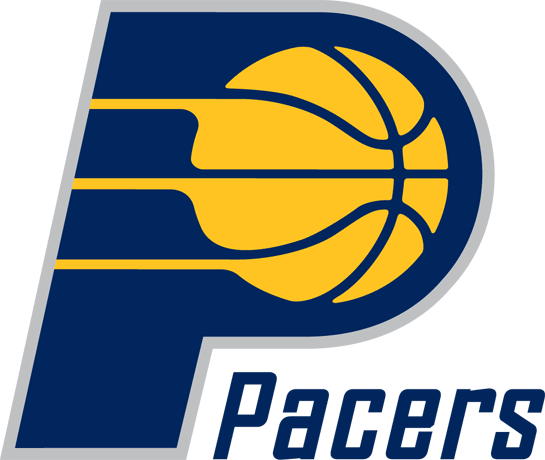 Once again, Wabash College Career Services will bring alumni and students together for a Pacers basketball game while also providing networking opportunities for Wabash men.
The ticket price to attend the event is $100. With your ticket you receive:
Admission to the game against the evil Golden State Warriors with seats at the Legends level
All you can eat and drink (including beer) from 5:30 p.m. to after the conclusion of the game
A lounge setting where networking will be much more efficient than simply sitting in stadium seating
A chance to meet current students, future interns or employees, or professional contacts
To attend, please fill out the online form to RSVP.
Also, if you would like to attend, the Career Services department needs a check for the amount to be mailed to them no later than Feb. 5th, 2014. This ensures that our department can pay for all of the seats we've saved. The mailing address for the check is:
Wabash College
Attn: Cassie Hagan; Wabash Career Services
P.O. Box 352
Crawfordsville, IN 47933-0352
If you have any questions or comments about the event, please contact Spencer Peters at smpeters14@wabash.edu or by phone at (765) 414-7404. This is a quick deadline, so please do all that you can to meet it and attend this great event for both students and alumni.
OCTOBER 11-12, 2014 WABASH DAY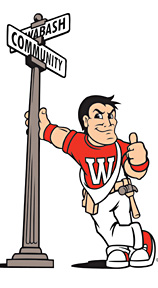 WABASH Day stands for Wabash Alumni Benefiting And Serving Humanity. It is a national day of community service planned by alumni in local communities and carried out by alumni, current students, family and friends of Wabash College. In 2014, we will celebrate The 10th Annual WABASH Day on the weekend of October 11-12. Mark your calendars now!
Alumni in cities and towns across the country will be organizing WABASH Day projects for their area. In addition, Wabash students will work with local alumni to organize projects in and around Crawfordsville.You will be receiving information on a specific project close to you so please watch your e-mail for updates on individual projects.
WABASH Day began an informal partnership with the Ronald McDonald House Charities in 2013 that led to some great projects in several cities. Ronald McDonald houses provide a "home away from home" for families of children who are undergoing medical treatment and each house is supported by the work of volunteers

If you are interested in getting involved or learning more about starting a project in your area, including contact information for your local Ronald McDonald House, please contact Mike Warren '93 at warrenm@wabash.edu.
We have quarterly gatherings in different parts of the County. Please send recommendations for future venues and refer all questions to Josh Nicholson.
Contact: Josh Nicholson '04 (nicholsj5@yahoo.com).
Ad Hoc Committees
Chairman: Jon Pactor '71 (pactorlaw@iquest.net)
Alumni Engagement
Chairman: Josh Nicholson '04 (nicholsj5@yahoo.com)
Contact: Hugh Vandivier '91 (hugh.vandivier@gmail.com)
Chairman: Dave Reed '89 (dreed@leafsoftwaresolutions.com)
Chairman: Jon Pactor '71 (pactorlaw@iquest.net)
---
Events
2013 YEAR IN REVIEW
Thanks to all the alumni, students, faculty, staff, parents, and friends who made 2013 an eventful year for the Indianapolis Association of Wabash Men. Steve Badger '87 has been elected the new board president, and he'll work well to guide the IAWM to an engaging and supportive role for 2014.
MONON BELL STAG - NOVEMBER 13, 2013
About 240 men of Wabash and DePauw gathered once again at the Arabian Room at the Murat Shrine for the Annual Monon Bell Stag. Wabash President Greg Hess and DePauw President Brian Casey welcomed the crowd to the celebration of our schools' tradition in the "Best Small College Football Rivalry In The Galaxy."
Tim Craft '00 served as the Wabash emcee. Seth Hensley '14 told the crowd what to expect from the Little Giants that Saturday.
Dr. Tobey Herzog, Wabash H'11 and Jeff McCall D'76 were presented with the Spirit of the Monon Bell Award.
Hugh Vandivier '91 announced that the Wabash and DePauw Phi Delts joining together to run and bike a ceremonial game ball from Crawfordsville through Roachdale to Greencastle to raise money for ALS. They raffled the ball off at the Stag, raising $655. Jim Cumming '61 won the ball.
Then the gloves came off. Wabash roaster Brent Bridwell '03 delivering a humorous verbal assault followed by the DePauw roaster who drew crickets. (No, seriously, he was embarrassing.)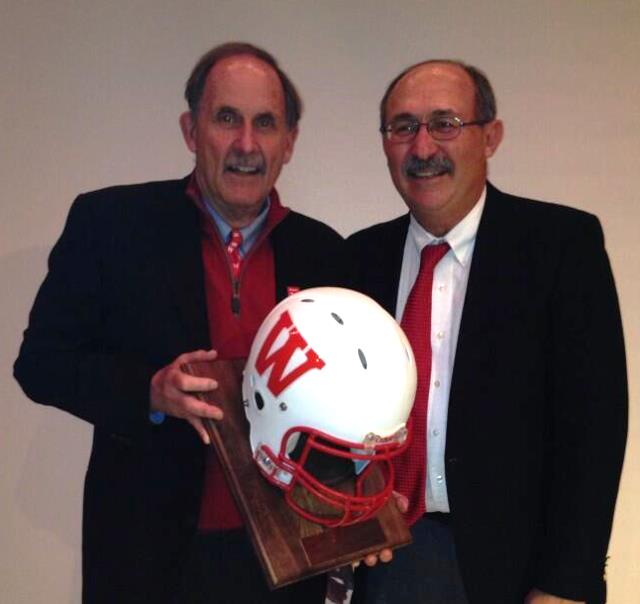 Wabash Athletic director Joe Haklin (right) presents Dr. Herzog with the Spirit of the Monon Bell Award.
ADMISSIONS VOLUNTEER WORKSHOPS - FALL 2013
To help boost our referral numbers and increase our volunteer base, the Admissions Office and the IAWM Board hosted an alumni volunteer workshops before home football games in Crawfordsville and at Plews Shadley Racher & Braun in Indianapolis. The workshops provided attendees with all of the tools necessary to identify and recruit future generations of Wabash men including roles volunteers can fill, reports on current recruitment strategies, updates on new academic and co-curricular programs, and materials for your recruiting arsenal.
NOVEMBER AFTER-WORK GATHERING - NOVEMBER 5, 2013
Indy's Wabash Mafia convened for the last time in 2013, returning to the bar at The Alexander hotel (333 S. Delaware St.), known in swanky circles as the Plat 99: Mixology Lounge.
But don't let the swankiness fool you. This meeting was purely an informal get-together to meet, catch up, and connect with local alums.
MOOT COURT FINALS - OCTOBER 29, 2013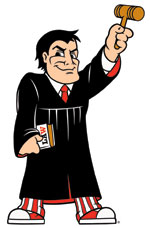 Thirty six Wabash students participated in the 20th Annual Wabash College Moot Court Competition. Cory Kopitzke '14 was named Top Advocate. The judges panel selected Kopitzke over finalists Adam Alexander '16, Nash Jones '16, and Jacob Burnett '15.
The students argued their case in front of three real judges and a Wabash College professor. This year the panel was led by Professor Lloyd Wilson '77, a professor of law at Indiana University Robert H. McKinney Law School. He was joined by Steven David, who has had a long and distinguished career, and now sits on the Indiana Supreme Court. Debra McVlicker Lynch is a U.S. Magistrate Judge and summa cum laude graduate of the IU School of Law. Each year a member of the Wabash faculty or administration serves as a judge. President Gregory Hess rounded out the panel.
Moot Court was streamed live via the internet. As in previous years, students and faculty from Lawrence North Nigh School, Indianapolis, joined a good student turnout in the audience.
This year's case is about the constitutionality of an amendment to the constitution to prohibit any form of affirmative action in university admissions.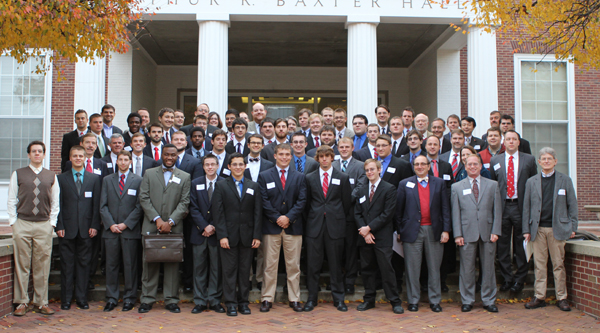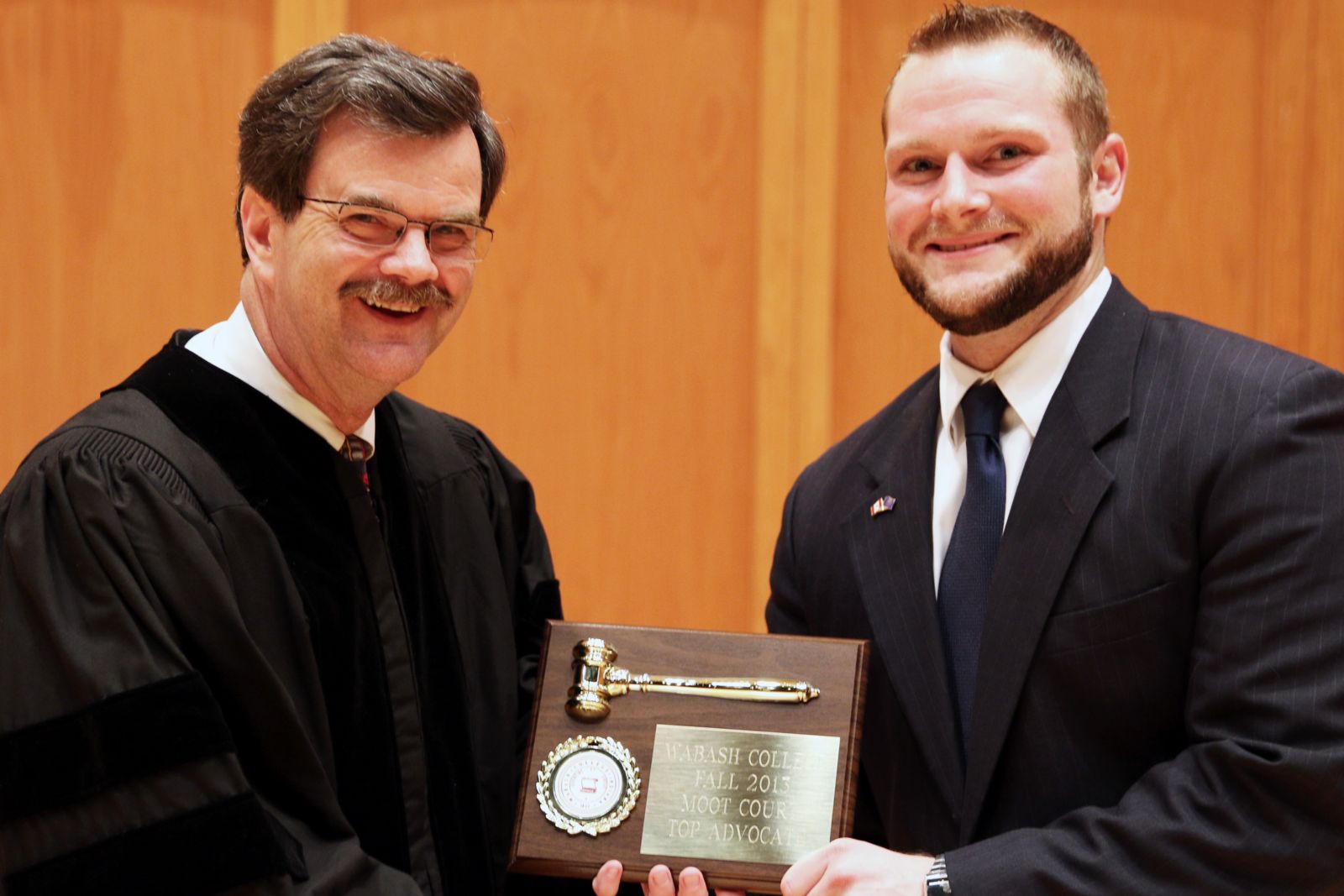 Professor Tom Wilson '77 presents Cory Kopitzke '14 Top Advocate Honors.
OCTOBER AFTER-HOURS GATHERING - OCTOBER 17, 2013
The Wabash Mafia met in the heart of Broad Ripple for a very informal after-work gathering at Triton Tap. Dave Waldman '93 made sure the big community table was reserved for alums who convened, conversed, and connected.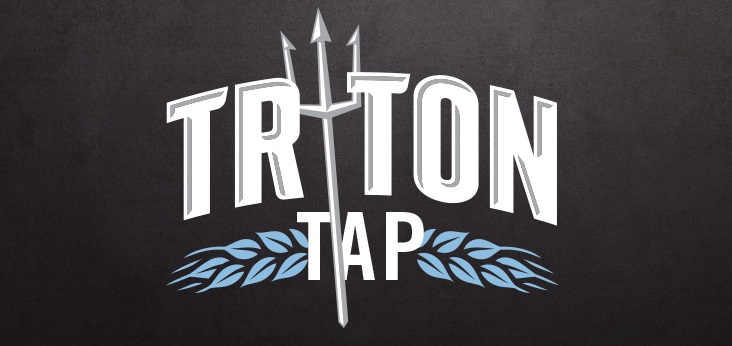 WABASH DAY - OCTOBER 5-6, 2013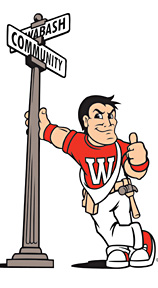 WABASH Day—Wabash Alumni Benefiting And Serving Humanity—is the national day of community service organized by alumni and carried out by alumni, family, and friends in line with the Gentleman's Rule requirement to be responsible citizens and with the college's mission statement to think critically, act responsibly, and lead effectively to make our communities more humane places.
Wabash graduates along with their families and friends gathered in small groups in 29 sites across the nation and worked to better their communities as part of the eighth annual WABASH Day. (story)
In Indianapolis metropolitan area, Wabash men and their families contributed to the following projects:
INDIANAPOLIS
Second Helpings. WABASH Day Leader: Bryan Roesler '06.
Villages. WABASH Day Leader: Kevin Benefiel '81.
Mapleton-Fall Creek Neighborhood. WABASH Day Leader: Josh Tatum '03.
NOBLESVILLE
ZIONSVILLE
Thanks to the WABASH Day IAWM Committee for setting up these worthwhile projects in the Indianapolis metropolitan area: Jon Pactor '71 (chair), Brandon Clifton '05 (chair), Tim Craft '00, John Bridge '72, Greg Estell '85, Josh Tatum '03, Keenan Blanchford '98, Dave Reed '89, Seamus Boyce '03, Jim Kerr '92, Steve Badger '87, and Scott Benedict '98.
INDY WELCOME RECEPTION FOR PRES. GREG AND LORA HESS - SEPTEMBER 17, 2013
Indianapolis alumni were out in force at a welcome reception for Wabash's 16th President Greg Hess and his wife, Lora at the beautiful Alexander Hotel.
President Hess' Chapel Talk from August 29.
NEW FACULTY RECEPTION - SEPTEMBER 11, 2013
Since 1999, the IAWM has hosted a reception welcoming new faculty members to campus. This year, we greeted 10 professors and President Hess. These are the teachers who are challenging the current crop of Wabash men and hopefully will become the next Placher, Butler, Heubner, and Zimmerman.
After introducing themselves, they each received a membership to Athens Arts, courtesy of the IAWM. Thanks to Dustin DeNeal '04 (chair) and his committee of Jon Pactor, Keenan Blanchford, Keith Veal, and Aman Brar for setting up the event. (story)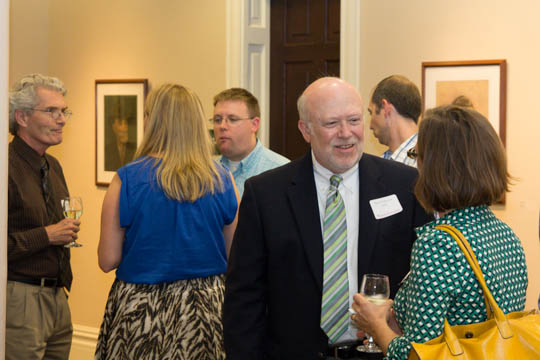 IAWM board member Brad Johnson '71 talks with new faculty member Adriel Trott.
SEPTEMBER AFTER-WORK GET-TOGETHER - SEPTEMBER 4, 2013
For September, the Wabash Mafia convened at Harry & Izzy's downtown to partake in informal networking, schmoozing, libations, and a few took up the challenge of the famous shrimp cocktail, which sports analyst Dan Patrick called, "some kind of fraternity prank," during the Super Bowl.
Thanks to Sean Simmons '00 for setting up the event.
BACHELOR ADS - EVERY WEEK
The IAWM continues its long tradition of supporting the student-run newspaper,
The Bachelor
, by taking out advertisements in the weekly publication. Our alumni group uses the space to announce alumni-student events, congratulate student and alumni accomplishments, and provide occasional encouragement to students, organizations, and athletic teams.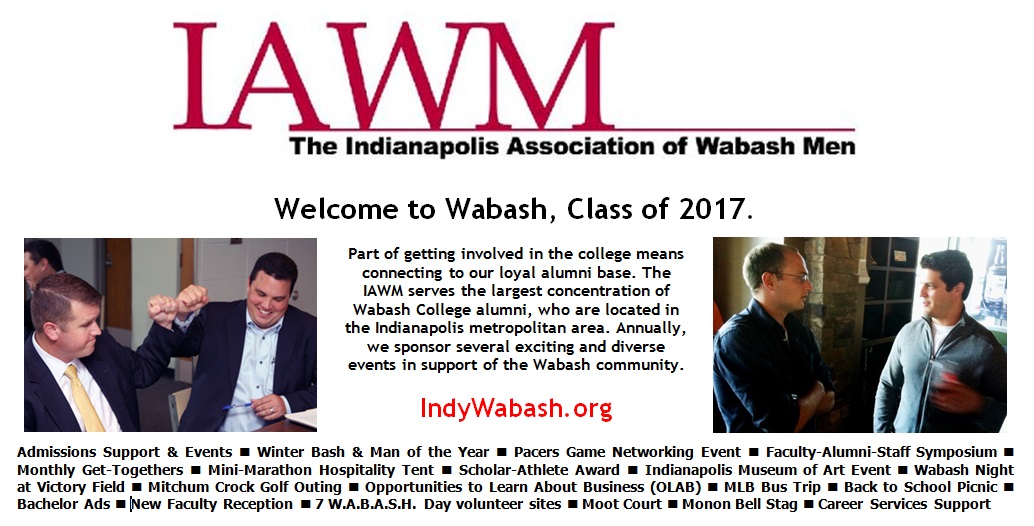 BACK TO SCHOOL PICNIC - AUGUST 10, 2013
Members of the IAWM and the NAWM welcomed Indianapolis-area incoming freshmen and their families at the westside home of Jennifer Jones and Kelly Pfledderer '96, Founder and CEO of the Indianapolis IT company Apparatus. About 90 people attended the inaugural event, which included President Gregory Hess and his wife, Lora. Alumni did a great job of talking with families.
We're thankful to Jennifer and Kelly for opening their home and their generous sponsorship of this inaugural event.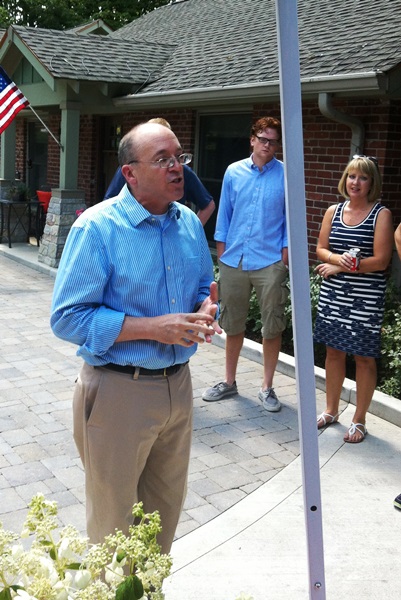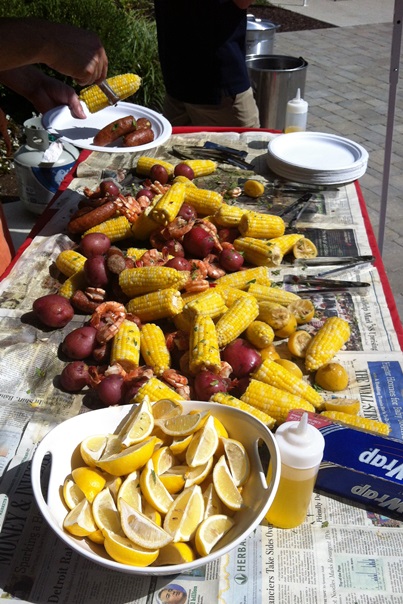 President Hess spoke to the families before the attendees were treated to a shrimp boil.
AUGUST AFTER-WORK GET-TOGETHER - AUGUST 8, 2013
Wabash alums went al fresco for the August version of our after-work get-togethers where the Wabash Mafia joined joining Rooftop Thursdays at Regions Tower. OK, it wasn't the actual rooftop, but the terrace on the 5th floor, including a DJ, appetizers, TWR, and other refreshments.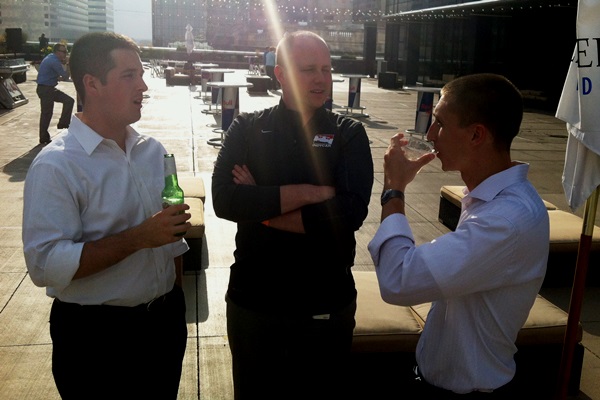 Drew Howk, Jesse James, and Will Weber share some conversation.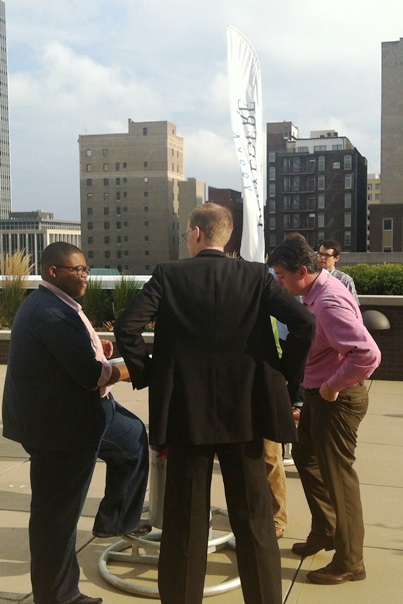 MLB BUS TRIP TO CARDS @ REDS - AUGUST 2, 2013
For a 25th time, a busload of Wabash baseball fans boarded a bus to a Major League Baseball game. The 34 road-trippers traveled to Cincinnati to watch the St. Louis take on their NL Central rival Reds at Great America Ballpark. The group was barely settled into their left-center field seats when the Cards scored 4 runs in the top of the 1st. The barrage continued with the lopsided score ending up 13-3 with St. Louis' Shelby Miller notching the win. (recap)
Many thanks to Josh Tatum '03 and his committee for a fun event.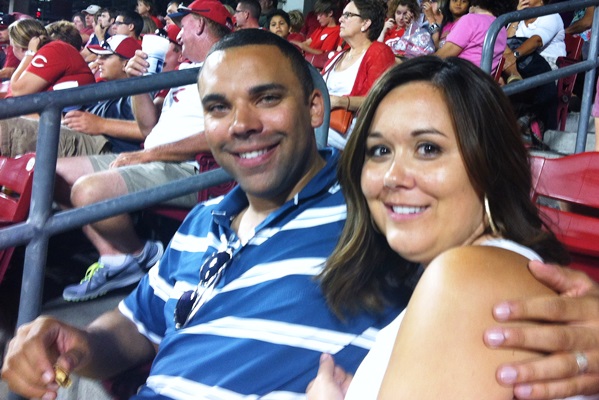 Brandon Clifton '05 and his wife, Stevee, enjoy a night out at the ballpark.
BOYS STATE RECEPTION - AUGUST 4, 2013
The IAWM joined Wabash Admissions in welcoming Boys State Delegates and their families to campus. Reception attendees will receive a Wabash College Boys State Scholarship with an annual value of $7,500 ($30,000 over four years) upon admission to the College. (story)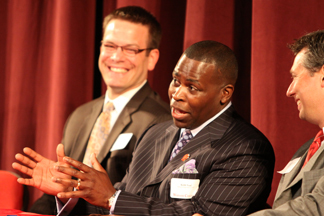 2010: IAWM board member Keith Veal '92 told attendees during a panel discussion, "Wabash taught me how to 'Walk TALL' and that's what I tell them. I say, 'think critically, act responsibly, lead effectively, and live humanely — think, act, lead, live,'" the acronym for which is TALL. "Wabash taught me the power of critical thinking. If you get that part right — thinking critically — everything else falls into place."
MITCHUM CROCK GOLF OUTING - JULY 25, 2013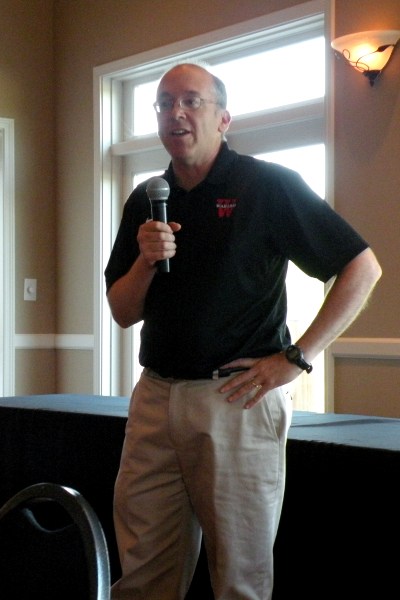 This year's annual Mitchum Crock sold out, with more than 140 Wabash alumni, staff, students, and friends taking part in the annual event held at Plum Creek in Carmel.
Once again, this year's title sponsor was Barnes & Thornburg. TWR came from Sun King Brewing.
This marked the first opportunity for many alumni to meet our new president, Greg Hess (pictured right), who greeted the golfers after dinner. Then, Scott Himsel '85 paid special tribute to Dr. David Hadley H'76 for his years of service to Wabash College.
Many thanks to co-chairs Steve Badger '87 and Tom Welch '94 and their committee consisting of Scott Benedict '98, Lee Clark '73, Tim Craft '00, Jeff Dickison '85, Dave Reed '89, Tony Unfried '03, and Chuck Whybrew '94 for one of the most successful Crocks in recent years. (more) (photos)
This year's notable winners included the following:
Mitchum Crock (Low Net)
1st: Greg Foyer '78, Kyle Foyer '83, Lenny Foyer, and Raymond Foyer (pictured below)
2nd: Greg Charnes '00, Charnes, Corey Barnard '00, and Curtis Barnard '00
Petty Award (Low Gross)
1st: Bob Grand '78, Brian Burdick '91, Nathan Baker '94, and Jacob German '11
2nd: Jeff

Berens

'93

, Donald West

'93

, Garry Groh

'93

, and Mike Warren

'93
Closest to Pin
Longest Putt
Longest Drive (for the course, and the day)
Mike Macke '83, a former golf coach for Bellmont High School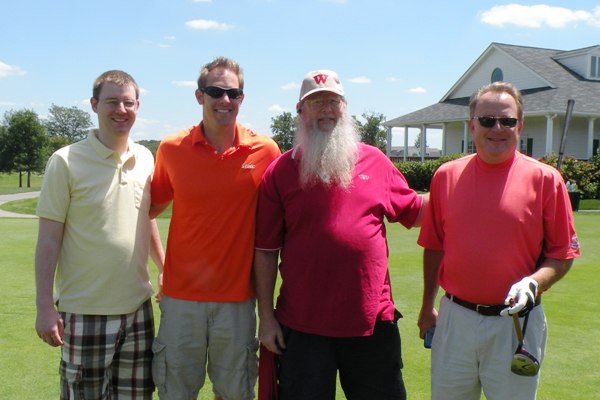 JULY AFTER-WORK GET-TOGETHER - JULY 18, 2013
The Wabash Mafia gathered for a cool beverage and after-work conversation in the heart of Broad Ripple at the Usual Suspects (6319 Guilford Ave.).
OPPORTUNITIES TO LEARN ABOUT BUSINESS (OLAB) - JULY 7-13, 2013
Since 1973, Wabash has hosted rising high school seniors for a week-long summer introduction to business and the market economy. This, the 41st year, hosted 64 students from 12 states and Spain, nine counselors, 15 volunteers, and a half-dozen faculty members, who came to the Wabash campus to participate in OLAB. Since OLAB's founding, more than 2,500 students have participated in the program. The IAWM has long been a supporter of this program, and many area alumni are happy to participate in simulated labor contract negotiations. This year, IAWM board member and Indianapolis attorney Chris Cotterill led a workshop on business ethics. (More) (pictures)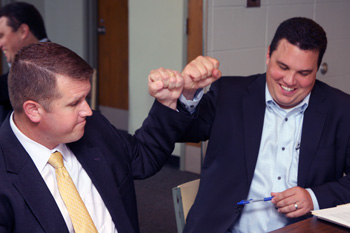 IAWM Board past president Scott Benedict '98 and current president Tim Craft '00 share a fist bump to show solidarity in their negotiating position.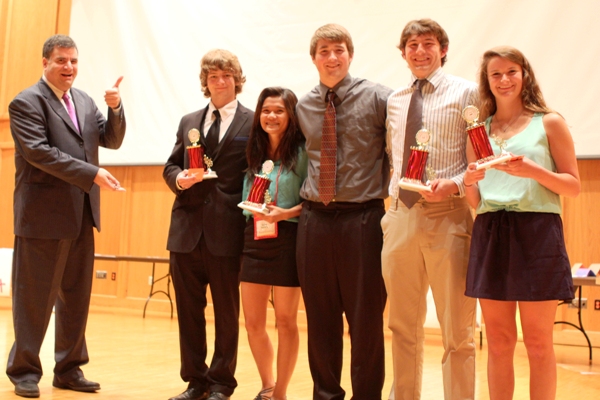 Team 12 (pictured) comprised Nick Beeson of Park Tudor School (Carmel, IN), Emily Dickey of St. George's Independent School (Germantown, TN), Jacob Huff of MSD Shakamak (Jasonville, IN), Nolan Morse of Crawfordsville High School (Crawfordsville, IN), and Yosita Yeerong of Mira Mesa High School (San Diego, CA). Team 12 received trophies and $100 Nike gift cards for capturing top honors.
WABASH NIGHT @ VICTORY FIELD - JUNE 21, 2013
Paid reservations hit 128 for the annual IAWM outing, a new record. Alumni, students, family, and friends enjoyed a pleasant evening out at the ballpark to watch the Indianapolis Indians fall short 7-5 to the evil Charlotte Knights in the beautiful confines of Victory Field. The longest day of the year ended with a dynamite fireworks show following the game.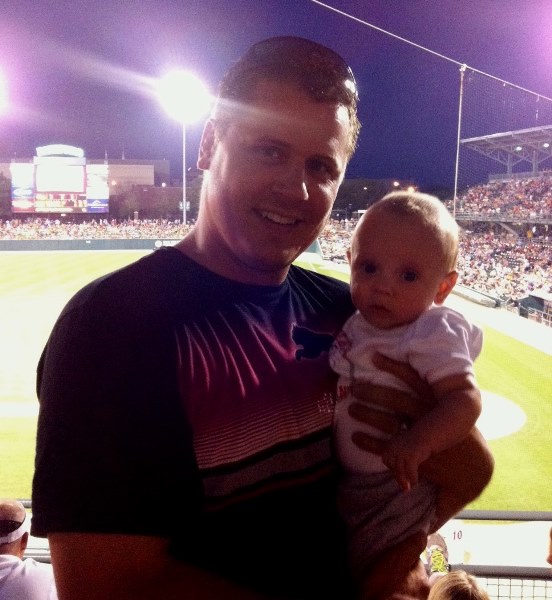 Tony Unfried '03 with the youngest attendee, 4-month-old Anthony, Wabash Class of 2031.
MEET THE CLASS OF '17 - SUMMER 2013
This summer, soon-to-be rung-in members of the Wabash Class of 2017 receive t-shirts in the mail and are asked to have their picture taken wearing the shirt for the Wabash College Facebook page. For the second year, incoming frosh could choose among red shirts that say Seriously Confident, Seriously Competitive, or Seriously Creative. In the past, the IAWM proudly to help subsidize this wonderful introduction to Wabash College for our future students and alumni. In 2009, Wabash's efforts toward incoming students made the Chronicle of Higher Education.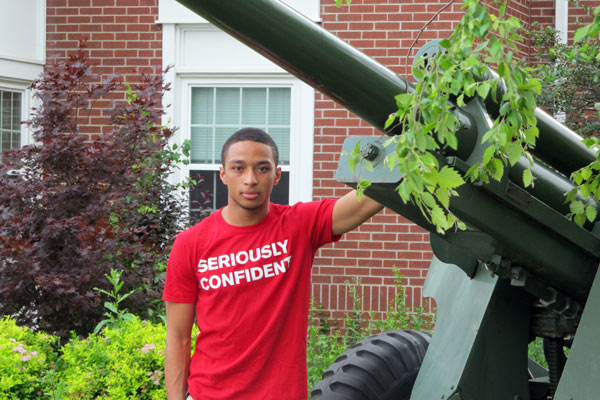 Aaron Stewart-Curet '17 of Indianapolis is seriously confident.
IAWM HOSPITALITY TENT @ THE MINI-MARATHON - MAY 4, 2013
Credit Steve Hoffman with the great idea. Thank Mike Warren for making it happen. For the first time, Wabash set up a welcome tent in the Runners Village beside the finish line at the Mini-Marathon. More than 50 students, alumni, faculty, staff, and families stopped by after they finished their walk or run.
Thanks to Jon Pactor '71 and Hugh Vandivier '91 for manning the tent.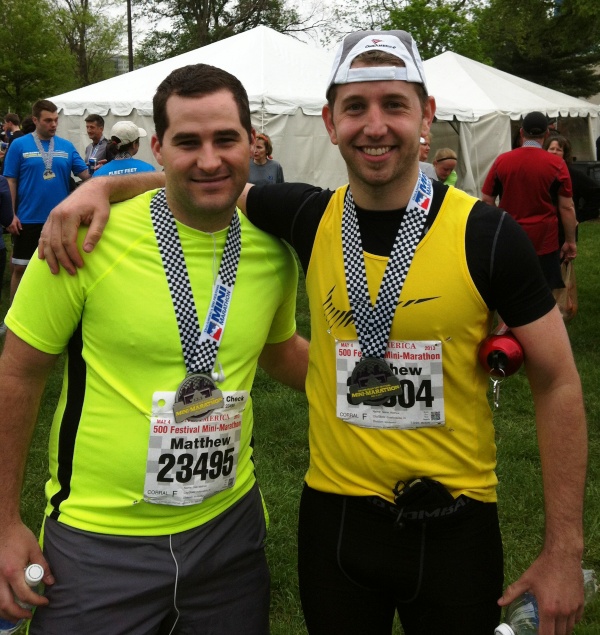 2008 classmates Matt Vest and Matt Maher catch up at the Wabash welcome tent.
WABASH ON THE ROAD @ THE INDIANAPOLIS MUSEUM OF ART - MAY 2, 2013
About 40 alumni, students, family and friends gathered at
100 Acres
, the beautiful outdoor art and nature park on the grounds of the Indianapolis Museum of Art on a nice spring evening on Thursday, May 2. They enjoyed a picnic dinner from Shapiro's on the impromptu seating of the
Funky Bones
sculpture.
After being greeted by IAWM president Tim Craft '00, the group trekked into the museum for a presentation by Dr. Jeremy Hartnett '96 and the students of his senior seminar (Classics/Latin 400), which examined one of the museum's ancient sculptures, the reclining sarcophagus of Flavius Agricola (c. 138- 193 A.D.), found in 1623 beneath the Vatican floor in the Basilica of St. Peter's.
Surviving and on display at the IMA is the splendid life-size marble portrait of the deceased, who reclines on a couch while holding a cup of wine in one hand and crowning himself with the other. Now lost (and thought destroyed by papal authorities) is the epitaph, which consisted of a 15-line Latin poem. It identifies Flavius, describes his origin and family, and then concludes with a saucy admonition: "Friends who read this, I advise you: mix the wine and drink deep, wreath your head in flowers, and don't deny sexual pleasures to pretty girls, for after death, earth and fire consume all else."
Professor Hartnett explained the history of the funerary monument and each senior student presented a synopsis of his study:
Will Kline addressed the need to reconcile the statuary portrait of an old-man with a youthful body.
Alex Gillham asked "To what degree was Flavius an Epicurean?"
John Streiff covered the inscription and the Roman rituals of eating and drinking.
Michael Carper discussed the rites involved with Roman funerary meals.
Zachary Thompson examined the relationship between Flavius and his wife, Primitiva.
As an added bonus, alumni Michael Bricker '04 and Nick Roudebush '09 guided the group into the stellar exhibition Ai Weiwei: According to What?, which features 30 remarkable pieces from the Chinese artist.
The event follows a successful 2011 reception at the IMA for Dr. Elizabeth Morton's work with Wabash students on the Dynasty and Divinity: Ife Art in Ancient Nigeria exhibit.
Special thanks to Keenan Blanchford, his assistant Ashley May and the new event committee for staging such a great event.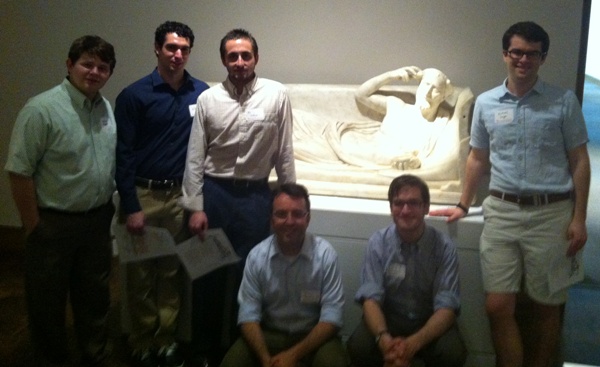 John Streiff, Will Kline, Alex Gillham, Prof. Jeremy Hartnett, Zachary Thompson, and Michael Carper in front of their subject, Flavius Agricola.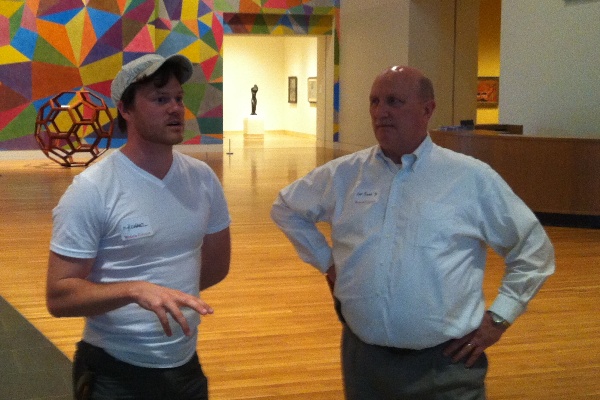 Michael Bricker '04 introduces the Ai Wei Wei exhibit as Lee Clark '73 listens.
WESTON KITLEY '13 WINS IAWM SCHOLAR-ATHLETE AWARD - APRIL 25, 2013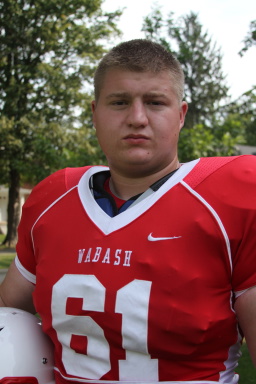 Weston Kitley received the IAWM Scholar-Athlete Award, which is given each year to a senior who has combined excellence in both his scholarship and athletics. The IAWM awards each recipient with $250. He has a big night at the Awards Chapel, taking home a Mackintosh Fellowship, recognition for his distiction on Comps, Phi Beta Kappa, and the Treves Science Award.
The chemistry major with a 3.73 GPA has also been named an NCAA Postgraduate Scholarship recipient for his work on the football field, in the classroom, and in the community. He was a four-year member of the Little Giant football team, starting three seasons on the offensive line and helping Wabash to an overall record of 37-7 along with North Coast Athletic Conference titles in 2011 and NCAA Division III Football Playoffs appearances in 2009 and 2011. Kitley received First Team All-NCAC honors from the league coaches in 2010, 2011, and 2012. He was elected captain by his football teammates as a senior. Kitley received national recognition as an Honorable Mention All-American by D3football.com in 2010. He was named to the D3football.com All-North Region Team in 2010, 2011, and 2012. He also received Capital One First Team Academic All-America honors.
Kitley also received the Howell Chemistry Award and the Treves Science Award. Kitley has served as president of the Wabash Chemistry Club and was inducted in the Hovey Honorary Chemical Society in 2012.
APRIL AFTER-WORK GET-TOGETHER - APRIL 25, 2013
April's edition of the Wabash Mafia convened in Westfield at The Local Pub & Eatery.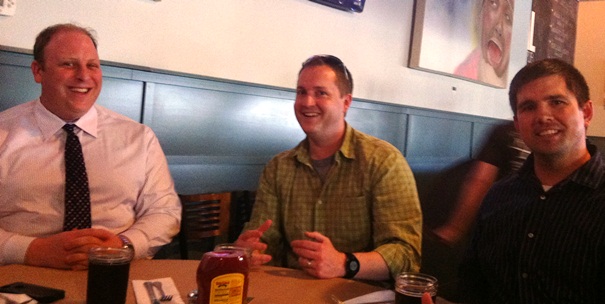 Jordan Vaughn '02, Joe Trebley '01, and Andrew Beyer '04 catch up at The Local.
MARCH AFTER-WORK GET-TOGETHER - MARCH 28, 2013
The "Wabash Mafia" reconvened its monthly gatherings to watch the Sweet Sixteen NCAA basketball matchups and do some networking at Moe & Johnny's. Joe Trebley won the business card drawing for a Bookstore gift certificate. Thanks to Josh Nicholson '04 for organizing the event and to owner Chuck Mack '67.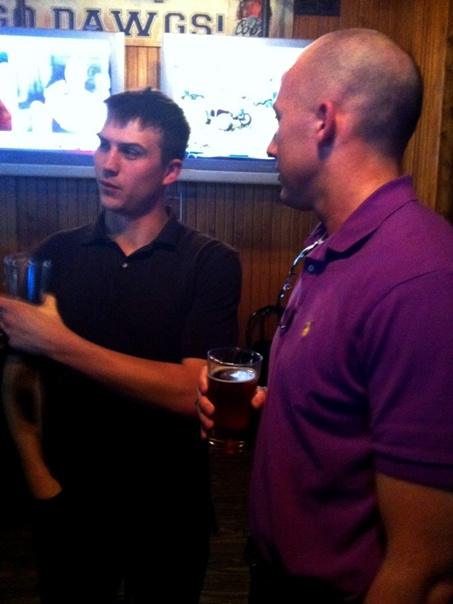 Will Skertic '11 and Kyle Bender '12 catch up over some TWR.
CAREER SERVICES PACERS GAME NETWORKING EVENT - FEBRUARY 20, 2013
Good ideas often lead to great events, especially in this case. Last year, Wabash's Schroeder Center for Career Development came to the IAWM with an idea to combine their spring semester networking event with Pacer game. For the second year, the result yielded a successful outing for more than 90 students who boarded a bus down to Indy and alumni who joined them at Bankers Life Fieldhouse.
Networking abounded during the dinner on the Pacers' practice court and throughout the game in lower level seats to watch the Pacers blew out their longtime rival Knicks. As a special treat, Voice of the Pacers, Chris Denari '83 stopped by to greet the group. (blog)
Special thanks to Jake Kersey '13 who coordinated the event with Dave Reed '89.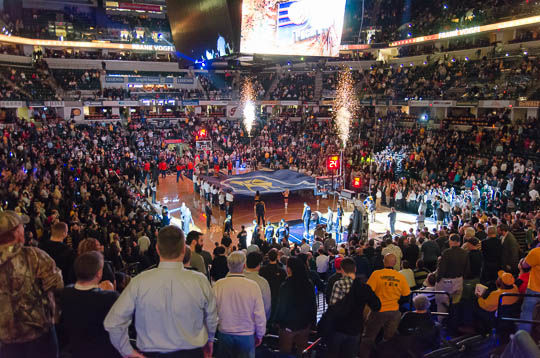 WINTER BASH - FEBRUARY 16, 2013
From Jim Amidon:
"One of the IAWM's most successful and enduring events is the Winter Bash, which was held last Saturday night at the Regions Bank Tower. The Winter Bash started off as a holiday dinner dance back in 1963, but since 1994 it has been held in mid-February.
"Since 1975, the IAWM has used the occasion to honor a "Man of the Year," and reviewing the list of past recipients is like reading through the pages of Wabash College history. John Collett, Dick Ristine, Ben Rogge, Bob Mitchum, Byron Hollett, Vic Powell, Lew Salter, Will Hays, and Dan Evans are just a few of the past Man of the Year award winners.
"It seemed only fitting that at its 50th anniversary event Saturday night, the IAWM would honor Pat and Chris White, who since 2006 have served Wabash as dedicated President and First Lady." (story) (photos)
Thanks to Dustin DeNeal '04, Josh Nicholson '04, Steve Badger '87, Brandon Clifton, Aman Brar '99, Jeff Dickison '85, Keenan Blanchford '98, and Jon Pactor '71 for organizing a special and successful event.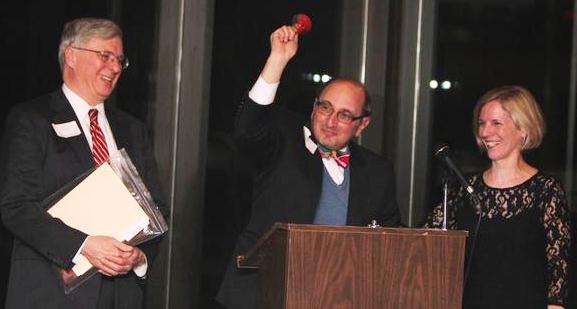 Jon Pactor borrows from tradition and "rings out" Pat and Chris White.
WALLY AT THE MOVIES - FEBRUARY 15, 2013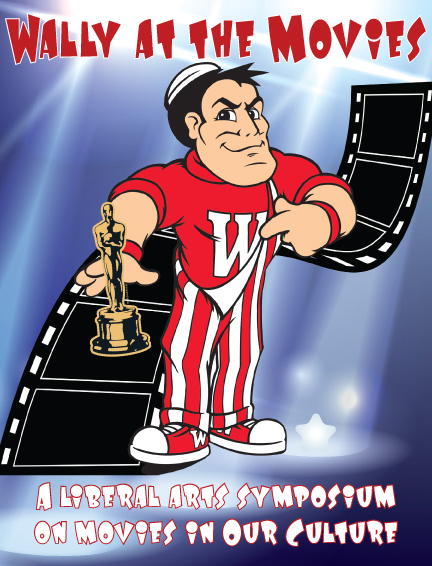 The IAWM and the NAWM hosted the fourth faculty-staff-alumni symposium, an in-depth look at the various aspects of filmmaking in Wally at the Movies. The afternoon featured sholarly presentations in Hays Hall, ending in a reception and dinner in Detcheon Center. (photos)
Jo Throckmorton '87, president and founder of Blue Ace Media delivered a keynote speech entitled "Block, Light, Prop, Shoot." (video)
The following professors and alumni made presentations:
President Pat White - "Have You Ever Been Mistaken for a Man?" What Ripley, Thelma and Louise, Norma Rae, and Jewell Ivy teach us about what it means to be a man (video)
Michael Bricker '04 - Production Design: Creating a Fake World in the Real World (video)
Dr. Crystal Benedicks & Dr. Jim Cherry - Screening the Unimaginable: 9/11, Spectatorship & The American Cinema (video)
Russ Harbaugh '06 - My First Feature: Surveying Cinematic Inspirations (video)
Dr. Lexie Hoerl - Hollywood Gentlemanliness and Codes of Chivalry in Film (video)
Dean Will Oprisko - "I'm Batman" How the Dark Knight Inspires Us and Why His Villains Terrify Us (video)
Keith Nelson '71 - D. W. Griffith's "Birth of a Nation" [1915] Marketing Racism or Marketing Art? (video)
Dr. Warren Rosenberg - "Wonder Boys": (White Male) English Professors in Film (video)
Steve Badger '87 & Robert Meitus '87 - Technical Difficulties: How Globalization Threatens Intellectual Property & Freedom of Expression (video)
Aaron Selby '06 - The Use of Film as a Teaching and Analytical Tool in the Modern Game of Football (video)
Beth Swift, College Archivist - Will Hays '00: More Than a Censor (video)
BOARD MEMBER ELECTIONS - FEB. 13, 2013
At its February meeting, the IAWM elected the following new board members to a three-year term: Chris Cotterill '99, Sean Simmons '00, Joe Trebley '01, Tony Unfried '03, and Chuck Whybrew '94. Welcome to the IAWM.
Steve Badger '87, Scott Benedict '98, John Bridge '72, Lee Clark '73, Jon Pactor '71, Scott Quick '88, David Reed '89, and Josh Tatum '03 were reelected to new three-year terms.
DUCKPIN BOWLING - JAN. 6, 2013
The IAWM hosted its annual atypical recruiting event for high school seniors and their families: duckpin bowling at historic Fountain Square. Sunday brought a great turnout of alumni, parents, and 10 prospective students talking about Wabash and trying to get 10 little pins down with one little ball. Thanks to Jon Pactor '71, Hugh Vandivier '91, Keenan Blanchford '98, Kim King '99, Jacob Pactor '04, Kyle McClammer '08, John Higgins '09, Jake Kolisek '11, Will Weber '11, and Kyle Bender '12 for helping recruit the next class of Wabash men.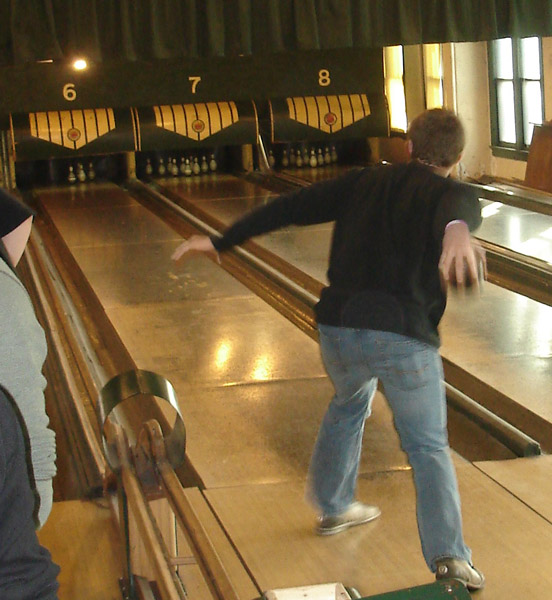 AFTER-WORK GET-TOGETHER @ SKYLINE CLUB - OCTOBER 16, 2012
The Alumni Engagement Committee hosted its last after-work gathering of the year in style: at the elegant Skyline Club atop the OneAmerica Tower. Newly minted and more seasoned alumni alike schmoozed and networked.
Special thanks to Ted Grossnickle '73 for his generosity and assistance in hosting us.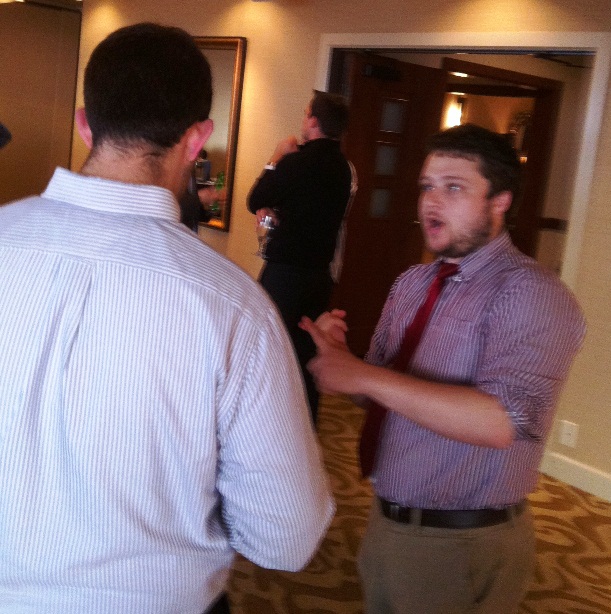 Jon Miller '08 and Patrick McAlister '10 catch up.
AFTER-WORK GET-TOGETHER @ BARLEY ISLAND, NOBLESVILLE - AUGUST 23, 2012
In August, alums gathered at Barley Island in Noblesville to sample some Wabash-made TWR by brewer and proprietor, Jeff Eaton '85.
Besides superb beverages, good food, and a golden opportunity to do some networking, IAWM board member Hugh Vandivier '91 hosted another Wabash quiz. This time, Hugh asked the faculty for some questions and got a lot of responses. Lee Clark '73 won a Bookstore gift card and the Quiz winner was Bob Riggles '94.
If you missed the quiz, you can still take it here. How many questions can you answer?
Thanks to Tony Unfried '03 for organizing the event.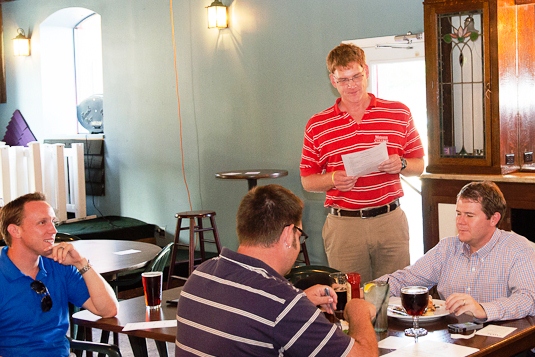 Hugh Vandivier '91 asks faculty-submitted questions to Josh Nicholson '04, Rob Riggles '94, and Seamus Boyce '03.
AFTER-WORK GET-TOGETHER & WABASH TRIVIA CHALLENGE - APRIL 19, 2012
April's after-work networking took on a new twist after alumni gathered at the Ripple Inn in Broad Ripple. In addition to the usual informal networking and hobnobbing, teams competed in The Wabash Trivia Challenge, a 20-queston quiz devised by Hugh Vandivier '91.
If you missed the quiz, you can still take it here. How many questions can you answer?
INDIANAPOLIS MUSEUM OF ART RECEPTION - SEPTEMBER 22, 2011
The IAWM hosted a unique reception to celebrate the accomplishments of Wabash Assistant Professor of Art History Elizabeth Morton and her students who curated the exhibition Dynasty & Divinity: Ife Art in Ancient Nigeria, which opened at the Indianapolis Museum of Art July 8.
The event brought together more than 120 faculty, staff, students, alumni, and families for a reception that included Nigerian food and a free tour of this important exhibit. For more info, click for the story of the reception, a photo album and another, and a behind-the-scenes blog by the students who worked on the exhibit.
Elizabeth Justice, Clay Robbins '79, Professor Morton, and Amy Robbins.
Bob Einterz '77 and his daughter, Abby.
WABASH AFTER HOURS GATHERING - APRIL 28, 2011
by Tom Runge
A good group gathered on a rainy Thursday evening at the Broad Ripple location of the Barley Island Restaurant & Brewhouse for some food, beverage, and a chance to catch up with each other. Barley Island is owned by Jeff Eaton '85.
So, if you're wondering if the time is worth it, let me assure you it is. Here's what I heard:
One alumnus, from my generation, gets together with his brother twice a week to play basketball.
One alumnus is mulling over his next move as a politician.
One alumnus is thinking of going to Law School after leaving Wabash almost 2 decades ago.
One alumnus has taken over a new role in overseeing the operations of a new consulting service.
One alumnus is moving to New York City for a new opportunity.
One alumnus is in the search for a new career opportunity.
One alumnus will be honored shortly for his work performance.
One spouse helps her sorority as a alumna advisor – she's excited about her new university president.
That's in about 90 minutes while enjoying the appetizers at Barley Island (excellent by the way) and sampling a TWR from Sun King Brewery.
The best part is these events are pure and simple friendship about a shared experience. No programs, no agendas, just what's up.
See you at the next one!
---
IAWM Board
2014 Officers
Steve Badger, President
Dustin DeNeal, Vice President
Keenan Blanchford, Treasurer
Brandon Clifton, Secretary
Tim Craft, Immediate Past President
Board Members
Through 2014

Keenan Blanchford '98
Aman Brar '99
Brandon Clifton '05
Tim Craft '00
Jeff Dickinson '85
Paul Jefferson '92
Brad Johnson '71
Kyle McClammer '08
Josh Nicholson '04
Hugh Vandivier '91
Keith Veal '92
David Waldman '93

Through 2015

Steve Badger '87
Scott Benedict '98
John Bridge '72
Lee Clark '73
*Chris Cotterill '99
Daryl Johnson '82
Jim Kerr '92
Jon Pactor '71
David Pippen '91
Scott Quick '88
David Reed '89
Sean Simmons '00
Josh Tatum '03
Joe Trebley '01
Tony Unfried '03
Chuck Whybrew '94

Through 2016

Seamus Boyce '03
Aaron Cook '06
Dustin DeNeal '04
Greg Estell '85
Matt Griffith '89
Jake Knott '03
*Rob Paugh '92
*Jeff Rice '00
Tom Welch '94

* new member
College Contact
Tom Runge '71 - (765) 361-6371