Alumni
Indianapolis Association of Wabash Men
Ad Hoc | News | The Board | Contact | History

The Indianapolis Association of Wabash Men serves the largest concentration of Wabash College alumni located in the Indianapolis metropolitan area. This constitutes around 2,000 alumni or nearly 20% of all alumni. The IAWM board encompasses a broad generational, geographical, and professional diversity. Annually, we sponsor several diverse and exciting events and services for the Wabash community.
Join us as we gather for camaraderie, enlightenment, celebration, and support of Wabash College and its students.
Upcoming Events
DECEMBER 5, 2015 DIII FOOTBALL QUARTERFINALS WATCH PARTIES
Wabash travels to the University of St. Thomas in St. Paul, Minnesota, on Saturday for the quarterfinal round of the 2015 NCAA Division III Football Playoffs. We've set up watch parties all throughout the Indianapolis area. Join the Wabash Faithful and root for the Little Giants as we live stream the game at these locations.
The game starts at 1 p.m. EST (noon CST).
Downtown
Liberty Street - 653 Massachusetts Ave., Indianapolis (map)
Owner Shawn Miller '81
Fishers
Stacked Pickle, Fishers Station - 11621 Fishers Station Dr., Fishers (map)
Family friendly
Fort Ben
Triton Brewing Company - 5764 Wheeler Road, Indianapolis (map)
Food available from the Da Blue Lagoon (Jamaican) food truck.
Operations director Dave Waldman '93
Family friendly
Greenwood
Peppers 2 - 299 S. State Road 135, Greenwood (map)
Midtown
Moe & Johnny's - 5380 N College Ave., Indianapolis (map)
Owner Chuck Mack '67
Road Trip Information
If you're making the trek up to Minnesota to see Wabash battle the Tommies in person, here's the information you'll need.
Tuning In
You can catch the game on WNDY 93.1 FM or online at http://www.wabash.edu/live.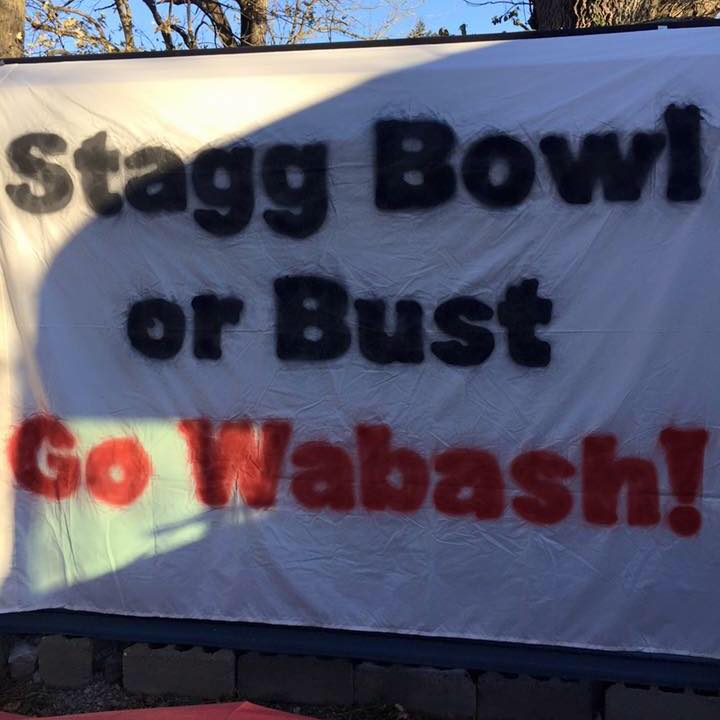 We have quarterly gatherings in different parts of the County. Please send recommendations for future venues and refer all questions to Josh Nicholson.
Contact: Josh Nicholson '04 (nicholsj5@yahoo.com).
Ad Hoc Committees
Chairman: Jon Pactor '71 (pactorlaw@iquest.net)
Alumni Engagement
Chairman: Josh Nicholson '04 (nicholsj5@yahoo.com)
Contact: Hugh Vandivier '91 (hugh.vandivier@gmail.com)
Chairman: Dave Reed '89 (dreed@leafsoftwaresolutions.com)
Chairman: Jon Pactor '71 (pactorlaw@iquest.net)
---
Events
SEPTEMBER 4-5, 2015 HAMPDEN-SYDNEY GAME/FAN EVENTS
Mark your calendars as the second game of the Stag Classic has the Wabash football team traveling to Farmville, Virginia to battle Hampden-Sydney. It's on Labor Day Weekend.
Friday Night Fan Get-together
Join other Wabash fans at a Farmville favorite, Charley's. We have reserved the Gold Room at Charley's that Friday evening. Appetizers will be provided, and there will be a cash bar. Charley's also has an outdoor patio and a dining room. We'll kick off the get-together at 7 p.m. There's no cost for the appetizers, but we do need a reservation. Charley's Waterfront Cafe is located at 201 B Mill Street, Farmville, VA. (Right next to all the shopping at the famous Green Front!)
Pre-game Tailgate
Join other Wabash fans for a pre-game tailgate catered by The Fishin' Pig, which is known for its BBQ. We'll have chicken and pork BBQ, slaw, chips, potato salad, and more. Cost is $10.00 per person and reservations are required. The tailgate will start at 11 a.m. in the parking lot next to the TigeRec facility. The TigeRec is a red building located just behind left field on their baseball diamond. You can see the campus map of Hampden-Sydney here.
JULY 23, 2015 MITCHUM CROCK GOLF OUTING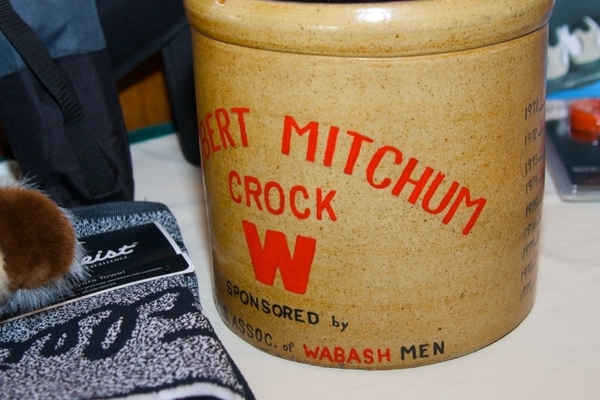 The annual event in honor of Robert Mitchum H'59 is once again sponsored by Barnes & Thornburg LLP. On Thursday, July 23, we're returning to Plum Creek Golf Club (12401 Lynnwood Blvd., Carmel).
Shotgun Start: 12:30 p.m.

Dinner and Program (including raffle): Following Golf - Approx. 5:30 p.m.
Registration Options:
Major Sponsor - $650 (includes logo on giveaway, logo on sponsor banner, recognition in program, hole sign, dinner, foursome, drink tickets)
Hole Sponsor - $325 (includes logo on sponsor banner, recognition in program, hole sign, dinner, one golfer, drink tickets)
Foursome - $500 (includes foursome, dinner, drink tickets)
Single - $125 (1 golfer, dinner, drink tickets)
Young Alumni (Class of 2010-2014) - $105 (1 golfer, dinner, drink tickets)
Dinner Only - $25
***NOTE*** - We have reached our limited number of foursomes/golfers and registration has been closed. Please contact Michele Ward in the Wabash College Alumni & Parent Relations Office at wardm@wabash.edu or 765-361-6369 if you wish to be added to the waiting list.
JULY 12-18, 2015 OPPORTUNITIES TO LEARN ABOUT BUSINESS
Since 1973, Wabash has hosted rising high school seniors for a week-long summer introduction to business and the market economy. This, the 44th year,
JUNE 26, 2015 INDIANAPOLIS INDIANS OUTING
The Indianapolis Association of Wabash Men (the IAWM) invites Wabash alumni, students, faculty, staff, families, and friends to a night of baseball and fireworks. Watch the Indianapolis Indians take on the evil Syracuse Chiefs in the beautiful confines of Victory Field, the "Best Minor League Ballpark in America." Stick around after the game for a fantastic fireworks show shot right from centerfield!
FRIDAY, JUNE 26, 2015, 7:15 p.m.
Fireworks following the Game
$16 per ticket
$13 for current students (including rising freshmen), young alumni, Classes of '10-'19, and children 14 and under.
Tickets will be available from the main gate Will Call at the west side Victory Field Box Office on game day, and we'll be seated in Section 206.
Children ages two and under are admitted for free and do not require a ticket.
Make your reservation today by contacting Heather Bazzani at Wabash College Alumni & Parent Relations bazzanih@wabash.edu or (765) 361-6360. Checks (made out to "IAWM") or charge on Visa, MasterCard, American Express, or Discover.
You can also purchase tickets online here.
No reservations will be taken after Friday, June 19!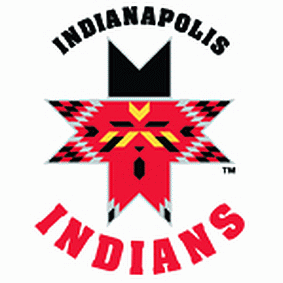 JUNE AFTER-WORK - JUNE 17, 2015
About 50 Wabash alumni took a special look into one of Indy's newest breweries, run by Matt Kriech '00 and Damon Carl '03. They describe themselves as "a small craft brewery that focuses on fusing art with science to make truly great beers." Wabash Brewing is located at 5328 W 79th St. in Indianapolis. (website)
MAY 29, 2015 MLB BUS TRIP TO CINCINNATI
The IAWM invites you to join us for this popular outing to Cincinnati where the Reds will take on the Washington Nationals. Friends and family (including children) are welcome. Please bring your own beverages for the bus. Concession stands, of course, are plentiful and convenient at the ball park.
Our deluxe motorcoach will depart at 4:15 p.m. from the north side of the Regions Bank Tower, New York St. between Penn and Delaware Sts., downtown Indianapolis
$45 for alumni from the Classes of 2007-2015
$55 for everyone else
$12 (optional) IndyAnna's box lunch
Tickets and bus seating are limited and are first come, first served. Call Heather Bazzani 765-361-6360; e-mail her at bazzanih@wabash.edu; or mail check or credit card info to:
Alumni and Parent Relations Office
Wabash College
PO Box 352
Crawfordsville, IN 47933
RSVP no later than Friday, May 22, 2015.
MINI MARATHON HOSPITALITY TENT - MAY 2, 2015
Whether they ran the Mini or just supported someone who is, Wabash alumni, students, faculty, staff, and friends stopped by our tent after the finish in Military Park for fellowship and refreshment. This year, we supplied TWR from Triton Brewing Company.
APRIL AFTER-WORK GET-TOGETHER - APRIL 22, 2015
A little birdy told us that 4.22 would be special, so we organized an event in Broad Ripple at Flatwater Restaurant. A hearty toast went up as Wabash surpassed its final challenge of 2,200 gifts.
MARCH AFTER-WORK GET-TOGETHER - MARCH 19, 2015
The monthly Wabash Mafia gatherings returned for 2015 as alumni met after work at Moe & Johnny's, the establishment of Chuck Mack '67. They enjoyed some TWR and the start of the NCAA Men's Basketball Tourney on the bar's many screens.
ALUMNI-FACULTY-STAFF SYMPOSIUM - FEBRUARY 20, 2015
by Richard Paige
Learning can happen anywhere.
From Ancient Rome to social media to 3D printing, many settings can serve as laboratories for learning. In that spirit, the NAWM, IAWM, faculty and staff of Wabash College presented the sixth-annual symposium, Wally in the Laboratory: A Symposium on Exploration and the Liberal Arts.
The celebration of learning showcased the varied locales that can function as a laboratory. A total of 12 faculty and alumni from across the liberal arts spectrum presented on a myriad of topics.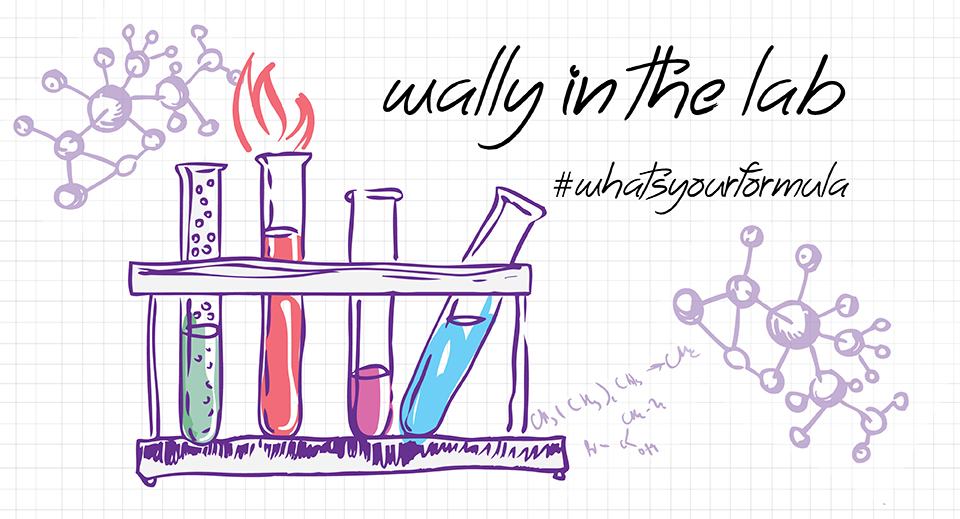 "People often think of a laboratory exclusively in the sciences, which is not true," said co-organizer Rick Cavanaugh '76. "In the liberal arts, we learn that the laboratory is much broader – it a place for experimentation, observation, and practice. This Symposium brings faculty, alumni and staff of Wabash together to celebrate ideas and experience the many forms a laboratory may take in the life of the liberal arts."
Presenting faculty members included Sara Drury (rhetoric), Shamira Gelbman (political science), Jeremy Hartnett (classics), Amanda Ingram (biology), Lon Porter (chemistry), and Neil Schmitzer-Torbert (psychology). They were joined by alumni presenters Matt Brown '95, Brad Maxwell '83, Michael Medler '74, Jon Pactor '71, Joe Trebly '01, and Matt Kriech '00 and Damon Carl '03. Dr. Richard Gunderman '83 delivered the event's keynote, "Transforming Minds and Hearts in the Laboratory of Life," following dinner.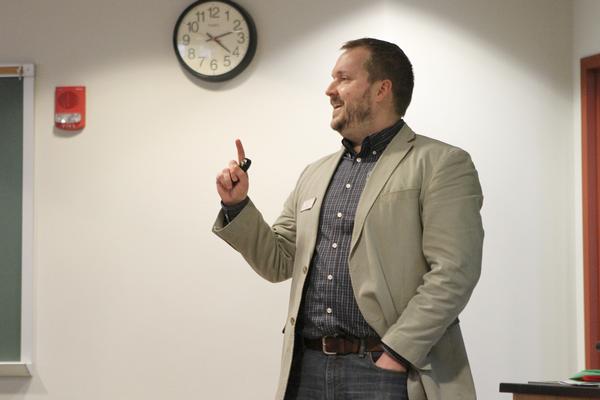 IAWM Board Member Dr. Joe Trebley '01 is the head of start-up support and promotion at the IU Research and Technology Corp. In his presentation he described the "interface between science and business." Trebley describes his role as two-fold: 1. cheerleader and 2. translator. "Science is hard, and getting products to market is even harder. I have the knowledge and ability to work between two different cultures (science and business)."
PACERS GAME AND NETWORKING EVENT - FEBRUARY 4, 2015
For the past few years, Career Services has brought alumni and students together for a Pacers basketball game while also providing networking opportunities for Wabash men. This year, a group of about 30 students traveled to Indy to attend the Pacers Career Fair and Inside the Front Office event. Area alumni joined them for dinner at the Old Spaghetti Factory before attending the Pacers game vs. the Detroit Pistons.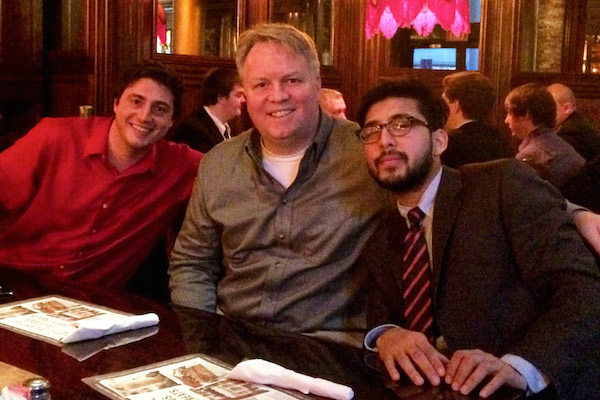 2014 YEAR IN REVIEW
Thanks to all the alumni, students, faculty, staff, parents, and friends who made 2014 an eventful year for the Indianapolis Association of Wabash Men. Dustin DeNeal '04 has been elected the new board president, and he'll work well to guide the IAWM to an engaging and supportive role for 2015.
BOARD MEMBER ELECTIONS - DECEMBER 10, 2014
At its December meeting, the IAWM elected the following new board members to a three-year term: Jim Dyer '83 and Brian Burdick '91. Welcome to the IAWM, Gentlemen.
SPIRIT OF THE MONON BELL CELEBRATION - NOVEMBER 13, 2014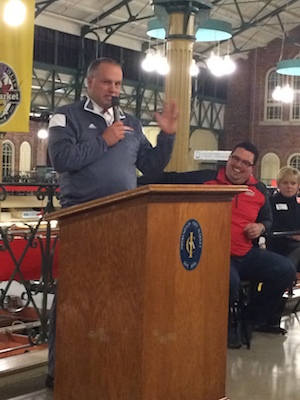 This year, the IAWM had even more reason to declare, "DePauw to Hell" after the Dannies backed out of the Monon Bell Stag. Undeterred, the organization retooled things, hosting a new event with a more casual atmosphere at theIndianapolis City Market.
The result? A great turnout of more than 160 celebrating the Spirit of the Monon Bell. Tim Craft '00 served as emcee, Wabash President Greg Hess welcomed the guests, and Tyler Wade '12 gave a preview of the game. Hugh Vandivier '91 announced that the Wabash and DePauw Phi Delts were once again joining together to run and bike a ceremonial game ball from Greencastle through Roachdale to Crawfordsville to raise money for ALS.
But the real highlight of the evening came when Wabash head football coach Erik Raeburn gave a barnburner of a speech, discussing the loss at Wittenburg, poor officiating, and the team's preparation for the Bell Game.
AFTER-WORK GATHERING AT BROAD RIPPLE BREWPUB - OCTOBER 21, 2014
For October's after-work gathering, the Wabash Mafia descended upon the Broad Ripple Brewpub (842 E. 65th St.) for its weekly Pub Quiz. They tested their liberal arts education and random knowledge with teams up to 6 members with 20 questions.
WABASH DAY - OCTOBER 11-12, 2014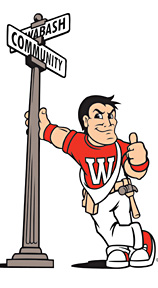 WABASH Day—Wabash Alumni Benefiting And Serving Humanity—is the national day of community service organized by alumni and carried out by alumni, family, and friends in line with the Gentleman's Rule requirement to be responsible citizens and with the college's mission statement to think critically, act responsibly, and lead effectively to make our communities more humane places.
Wabash graduates along with their families and friends gathered in small groups in more than two dozen sites across the nation and worked to better their communities as part of the tenth annual WABASH Day. (story)
In Indianapolis metropolitan area, Wabash men and their families contributed to the following projects:
AVON
B&O Trail Association. WABASH Day Leaders: Jim Kerr '92 and Dave Jackson '87
FRANKLIN
Girls Inc. of Johnson County. WABASH Day Leader: Brandon Clifton '05
INDIANAPOLIS
Second Helpings. WABASH Day Leader: Bryan Roesler '06.
Villages. WABASH Day Leader: Kevin Benefiel '81.
Mapleton-Fall Creek Neighborhood. WABASH Day Leaders: Josh Tatum '03 and Jon Pactor '71.
NOBLESVILLE
Noblesville Parks Department. WABASH Day Leader: Lee Clark '73.
SHELBYVILLE
Shelby Community Health Center. WABASH Day Leaders: Mark Lazar '81 and Renny Esser '08.
ZIONSVILLE
Morning Dove Therapeutic Riding Center. WABASH Day Leader: Steve Badger '87 and Scott Benedict '98.
Thanks to the WABASH Day IAWM Committee for setting up these worthwhile projects in the Indianapolis metropolitan area: Jon Pactor '71 (chair), Brandon Clifton '05 (chair), Steve Badger '87, Scott Benedict '98, Keenan Blanchford '98, John Bridge '72, Greg Estell '85, Dave Reed '89, Josh Tatum '03, and Rob Paugh '92.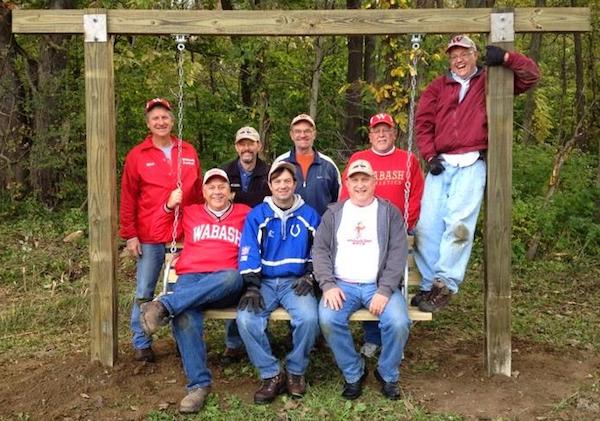 This WABASH Day group helped out with the Noblesville Parks Department.
AFTER WORK AT IRISH FEST - SEPTEMBER 11, 2014
For September's after-work gathering, we've worked out a deal with Indy Irish Fest on their Pub Night in Military Park. The event featured a variety of bands, food trucks and beer tastings.
NEW FACULTY RECEPTION - SEPTEMBER 9, 2014
Since 1999, the IAWM has hosted a reception welcoming new faculty members to campus. This year, we greeted 5 new professors in attendance. These are the teachers who are challenging the current crop of Wabash men and hopefully will become the next Placher, Butler, Heubner, and Zimmerman.
After introducing themselves, they each received a membership to Athens Arts, courtesy of the IAWM. Thanks to Dustin DeNeal '04 (chair) and his committee of Jon Pactor, Keenan Blanchford, Keith Veal, Jeff Rice, and Aman Brar for setting up the event.

BACHELOR ADS - EVERY WEEK
The IAWM continues its long tradition of supporting the student-run newspaper,
The Bachelor
, by taking out advertisements in the weekly publication. Our alumni group uses the space to announce alumni-student events, congratulate student and alumni accomplishments, and provide occasional encouragement to students, organizations, and athletic teams.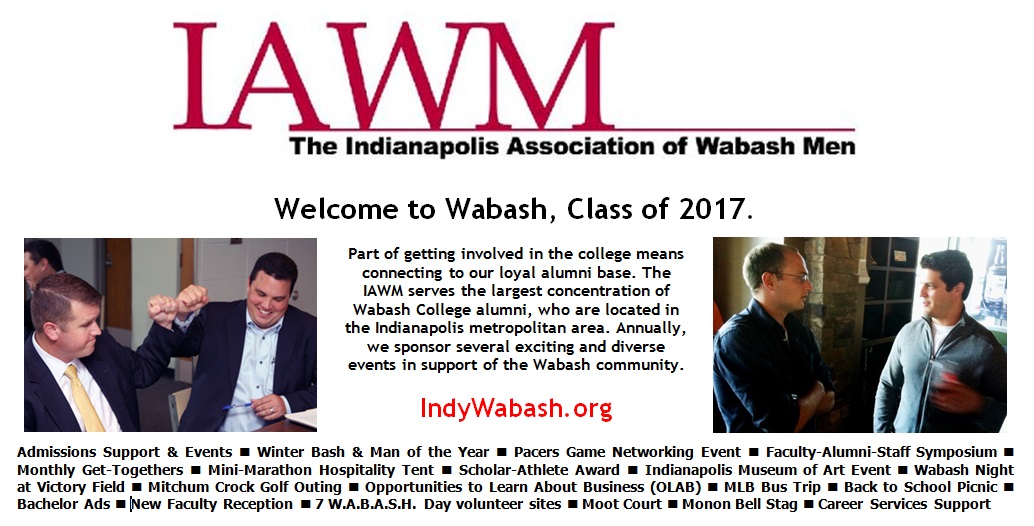 AFTER WORK AT THE REGIONS ROOF - AUGUST 21, 2014
July was so much fun, we returned to Rooftop Thursdays at Regions Tower in August for our monthly after-work get-together.
BACK TO SCHOOL PICNIC - AUGUST 9, 2014
Members of the IAWM and the NAWM welcomed Indianapolis-area incoming freshmen and their families at the westside home of Cathy and John Bridge '72. About 80 people attended the 2nd annual event, which included President Gregory Hess. Alumni did a great job of talking with families. Thanks to Matt Clark '00 for the food and Dave Waldman '93 for the Triton beer.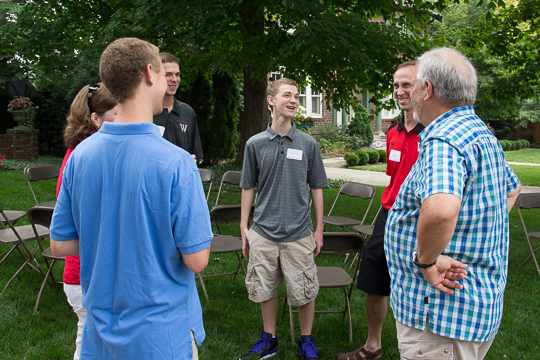 John Bridge (r) welcomes Kim and Tom Gunderman '89, and their sons, to the IAWM BBQ.
MITCHUM CROCK GOLF OUTING - JULY 24, 2014
News to come about this year's outing at Plum Creek Golf Club in Carmel.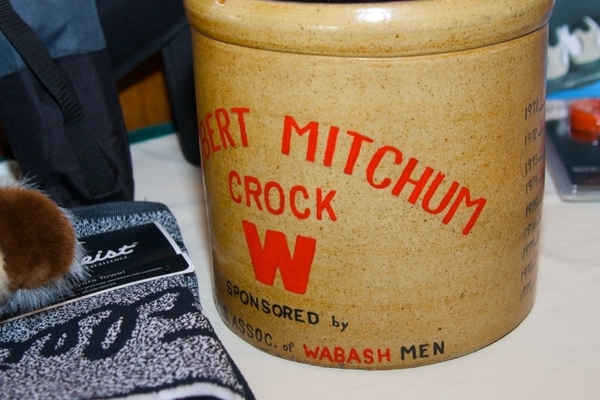 The 2014 Mitchum Crock was held on a beautiful July 24th at Plum Creek. We had a full field, and we believe everyone had a great time. Prof Tobey Herzog was the man of the day, and gave a great talk at the dinner.
The day's winners were:
Crock (Low Net)
1st – Olsen, Christian, Flynn, and Barnard
2nd – Jackson, Lauck, Shea, and Servies
Petty Award (Low Gross)
1st – Unfried, Bartley, Rankin, and Greer
2nd - Norman, Guilfoy, Michel and Stafford
Longest Drive – JD West
Longest Putt – Akers
Closest to Pin- Chapman
From Tom Runge: "The Crock was sponsored by Bob Grand's firm – Barnes and Thornburg. The course – Plum Creek in Carmel, IN – was in tip-top shape. The Crock committee had sponsors Sun King Brewing and Sullivan's Steakhouse set up strategically to keep the golfers hydrated and fueled. (If that isn't a true Wabash menu, I don't know what is). For after dinner – which was ribs and and the 'fixins' – they had a little Rye Whiskey from my good friend Dave Weglarz '03 from Still 630 in St. Louis."
Kudos to co-chairs Tom Welch '94 and Tony Unfried '03 and their committee consisting of Lee Clark '73, Dave Reed '89, Scott Benedict '98, Jeff Dickison '85, Steve Badger '87 and Chuck Whybrew '94. (more)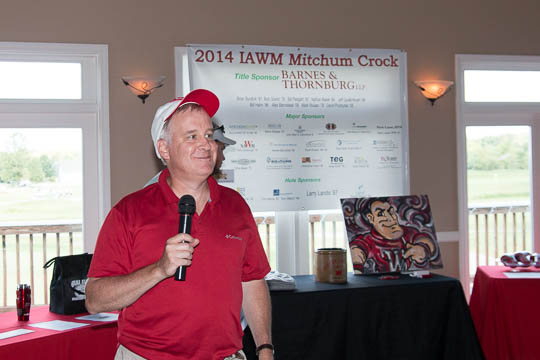 IAWM President Steve Badger '87 emcees the festivities, raffle, and awards after the golfing.
OPPORTUNITIES TO LEARN ABOUT BUSINESS (OLAB) - JULY 13-19, 2014
Since 1973, Wabash has hosted rising high school seniors for a week-long summer introduction to business and the market economy. This, the 43rd year, hosted 62 students from 16 states and France with counselors, volunteers, and a half-dozen faculty members, who came to the Wabash campus to participate in OLAB. Since OLAB's founding, more than 2,500 students have participated in the program. The IAWM has long been a supporter of this program, and many area alumni are happy to participate in simulated labor contract negotiations. (More) (pictures)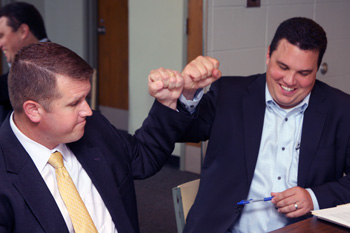 IAWM Board past presidents Scott Benedict '98 and Tim Craft '00 share a fist bump to show solidarity in their negotiating position.
MLB BUS TRIP TO CUBS @ REDS - JULY 9, 2014
For a 26th time, a busload of Wabash baseball fans boarded a bus to a Major League Baseball game. About 35 road-trippers traveled to Cincinnati to watch the Chicago take on their NL Central rival Reds at Great America Ballpark. The Cards broke a 1-1 tie in the 5th to end up beating the hapless Cubbies 1-4, making Reds pitcher Alfredo Simon the first in the MLB to notch 12 wins. (recap)
Many thanks to Josh Tatum '03 and his committee for a fun event.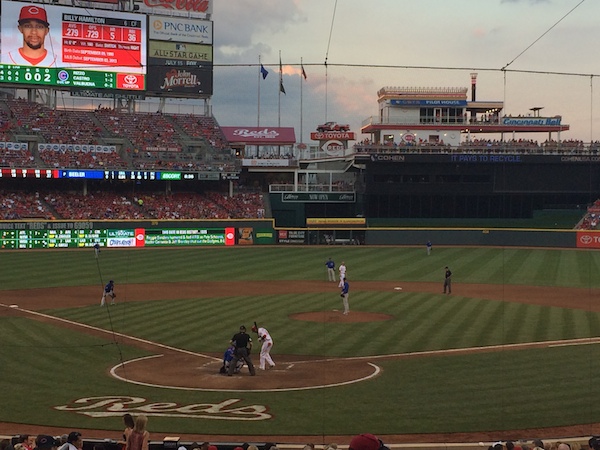 MEET THE CLASS OF '18 - SUMMER 2014
This summer, soon-to-be rung-in members of the Wabash Class of 2018 receive t-shirts in the mail and are asked to have their picture taken wearing the shirt for the Wabash College Facebook page. For the third year, incoming frosh could choose among red shirts that say Seriously Confident, Seriously Competitive, or Seriously Creative. In the past, the IAWM proudly to help subsidize this wonderful introduction to Wabash College for our future students and alumni. In 2009, Wabash's efforts toward incoming students made the Chronicle of Higher Education.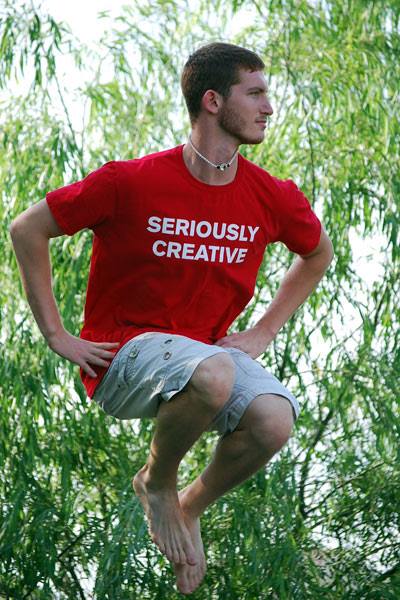 Dakota Rhodes '18 of Plainfield is seriously creative.
WABASH NIGHT AT VICTORY FIELD - JUNE 13, 2014
More than 50 alumni, students, family, and friends enjoyed a pleasant evening out at the ballpark to watch the Indianapolis Indians fall in extra innings 2-1 to the evil Durham Bulls in the beautiful confines of Victory Field. The game ended with a dynamite fireworks show.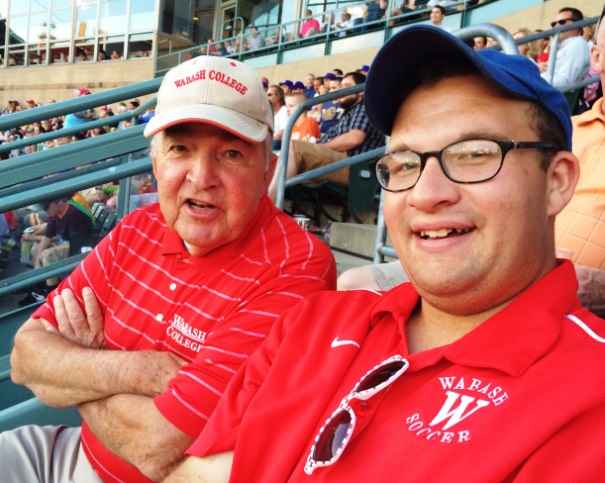 Joe Kiley '61 and Tyler Wade '12 enjoy a chat between innings.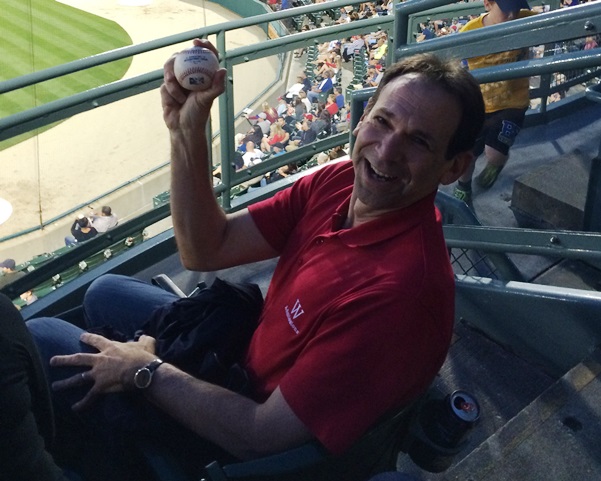 Dean of Admissions Steve Klein caught a foul ball!
JT MILLER'14 WINS IAWM SCHOLAR-ATHLETE AWARD - MAY 1, 2014
JT Miller received the IAWM Scholar-Athlete Award, which is given each year to a senior who has combined excellence in both his scholarship and athletics. The IAWM awards each recipient with $250. Some of JT's stats include the following:
Mathematics major – teacher education area of concentration
Cumulative GPA: 3.810
Career Record of 12-9 with two saves as a pitcher for the Little Giants
Tie for first in career shutouts with three
Set the Wabash single-game strikeout record with 17 against the College of Wooster
Second in career ERA with a mark 2.80
Third in career strikeouts with 193
Two-time First Team All-NCAC selection
Early favorite to be named NCAC Pitcher of the Year.
Spent the Summer, 2012 playing baseball in Chillicothe, Ohio for the Chillicothe
Paints in the Prospect League... Named a Prospect League All-Star.
Member of Inter-Fraternity Council and WAR Council
President of Phi Gamma Delta fraternity
Mathematics tutor
Selected to the 2014 American Baseball Coaches Association/Rawlings All-Mideast Region Second Team
Named the NCAC's 2014 Pitcher of the Year in addition to picking up First Team honors
Selected to the 2014 All-North Coast Athletic Conference Baseball Team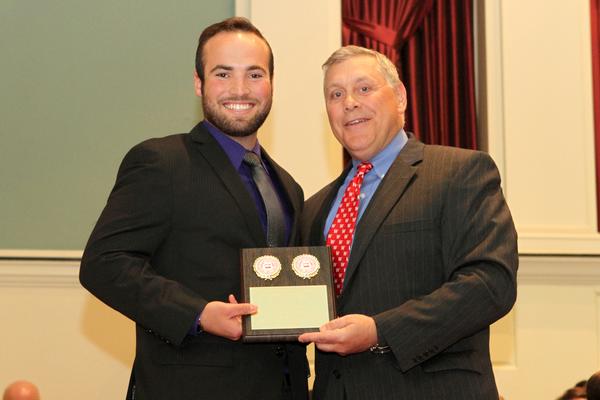 JT Miller received the Scholar-Athlete Award from NAWM President and IAWM Board Member Greg Estell '85.
WINTER BASH - FEBRUARY 8, 2014
By Tom Runge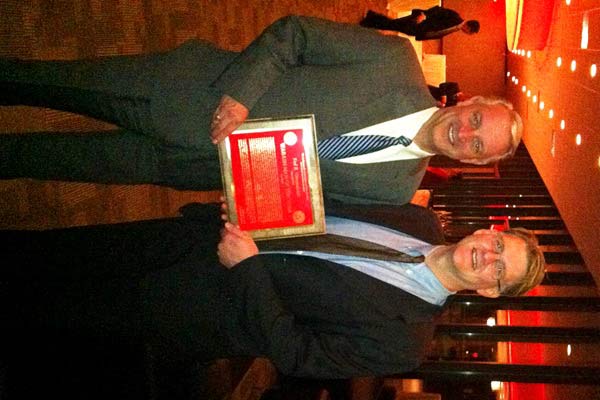 The Board of Directors of the Indianapolis Association of Wabash Men honored Wabash Trustee Ted Grossnickle '73 as their Man of the Year. The award was presented as part of the IAWM's Winter Bash celebration on February 8, 2014. (story)
Ted's many accomplishments were cited by Hugh Vandivier '91, who read the award citation. Ted's superb performance as a Vice President and then Acting President at Franklin College was credited with saving the institution during one of its toughest times. Ted went on to start Johnson Grossnickle & Associates (JGA), a professional fundraising organization. JGA served Wabash as campaign counsel during the very successful Campaign for Leadership in the early 2000s.
Before the presentation, Wabash's 16th President, Dr. Gregory Hess, gave an insider's view to his first seven months in office as he outlined his first initiatives to create a stronger, more vibrant Wabash.
Many thanks to Steve Badger '87, the current IAWM president, for serving as the evening's emcee and to Dustin DeNeal '04 of the IAWM for setting up the entire evening. A good time was had by all! (photos)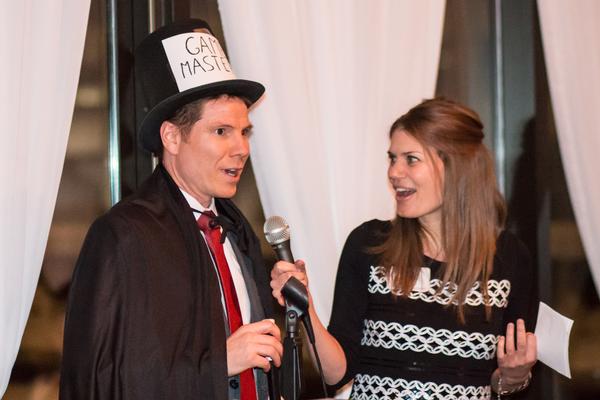 Keenan Blanchford '98 and his wife, Beth St. Claire, mixed things up with some party games.
BOYS STATE RECEPTION - AUGUST 4, 2013
The IAWM joined Wabash Admissions in welcoming Boys State Delegates and their families to campus. Reception attendees will receive a Wabash College Boys State Scholarship with an annual value of $7,500 ($30,000 over four years) upon admission to the College. (story)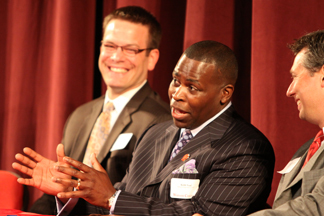 2010: IAWM board member Keith Veal '92 told attendees during a panel discussion, "Wabash taught me how to 'Walk TALL' and that's what I tell them. I say, 'think critically, act responsibly, lead effectively, and live humanely — think, act, lead, live,'" the acronym for which is TALL. "Wabash taught me the power of critical thinking. If you get that part right — thinking critically — everything else falls into place."
WABASH ON THE ROAD @ THE INDIANAPOLIS MUSEUM OF ART - MAY 2, 2013
About 40 alumni, students, family and friends gathered at
100 Acres
, the beautiful outdoor art and nature park on the grounds of the Indianapolis Museum of Art on a nice spring evening on Thursday, May 2. They enjoyed a picnic dinner from Shapiro's on the impromptu seating of the
Funky Bones
sculpture.
After being greeted by IAWM president Tim Craft '00, the group trekked into the museum for a presentation by Dr. Jeremy Hartnett '96 and the students of his senior seminar (Classics/Latin 400), which examined one of the museum's ancient sculptures, the reclining sarcophagus of Flavius Agricola (c. 138- 193 A.D.), found in 1623 beneath the Vatican floor in the Basilica of St. Peter's.
Surviving and on display at the IMA is the splendid life-size marble portrait of the deceased, who reclines on a couch while holding a cup of wine in one hand and crowning himself with the other. Now lost (and thought destroyed by papal authorities) is the epitaph, which consisted of a 15-line Latin poem. It identifies Flavius, describes his origin and family, and then concludes with a saucy admonition: "Friends who read this, I advise you: mix the wine and drink deep, wreath your head in flowers, and don't deny sexual pleasures to pretty girls, for after death, earth and fire consume all else."
Professor Hartnett explained the history of the funerary monument and each senior student presented a synopsis of his study:
Will Kline addressed the need to reconcile the statuary portrait of an old-man with a youthful body.
Alex Gillham asked "To what degree was Flavius an Epicurean?"
John Streiff covered the inscription and the Roman rituals of eating and drinking.
Michael Carper discussed the rites involved with Roman funerary meals.
Zachary Thompson examined the relationship between Flavius and his wife, Primitiva.
As an added bonus, alumni Michael Bricker '04 and Nick Roudebush '09 guided the group into the stellar exhibition Ai Weiwei: According to What?, which features 30 remarkable pieces from the Chinese artist.
The event follows a successful 2011 reception at the IMA for Dr. Elizabeth Morton's work with Wabash students on the Dynasty and Divinity: Ife Art in Ancient Nigeria exhibit.
Special thanks to Keenan Blanchford, his assistant Ashley May and the new event committee for staging such a great event.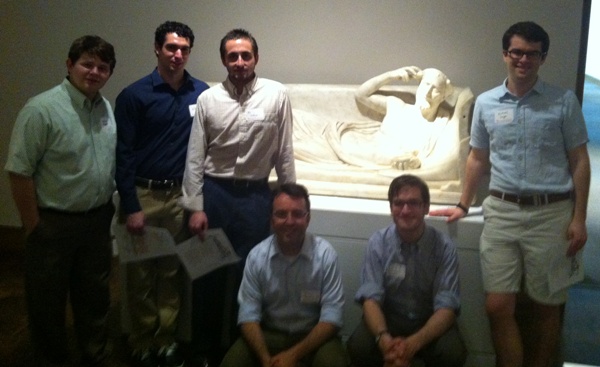 John Streiff, Will Kline, Alex Gillham, Prof. Jeremy Hartnett, Zachary Thompson, and Michael Carper in front of their subject, Flavius Agricola.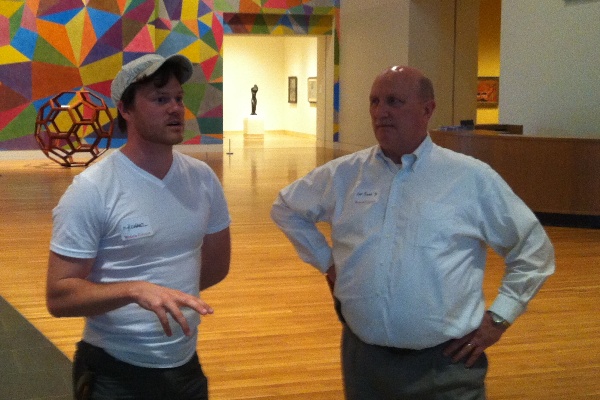 Michael Bricker '04 introduces the Ai Wei Wei exhibit as Lee Clark '73 listens.