Admissions & Financial Aid
Freshman Admissions
The College's small student body encourages extensive class participation, close student/faculty relationships, and spirited competition. All new students are encouraged to enroll in Wabash for the fall semester in order to integrate fully into the academic atmosphere.
There are several different ways to submit your application for admission. All will be evaluated in the same manner regardless of the format through which they are submitted.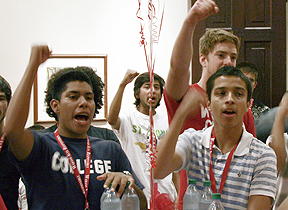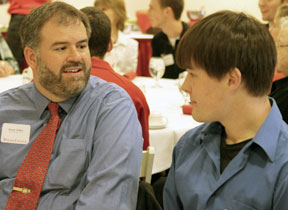 Apply Online
You can apply online to Wabash 24 hours a day. To start your application, log into your eWabash account (login box on the right). If you don't yet have an eWabash account, click here to create one. This account allows you to work on your application whenever you wish and once submitted, you can track the status of your application and see what materials still need to be submitted in order to complete your application. The online application is completely secure, and only you can access your information.
You will need to deliver a copy of the High School Report to your guidance counselor. Click on the link to download a copy of the High School Report.

Common Application
You may also use the Common Application. Wabash accepts the Common Application and we treat this application the same as we do our own application during the review process.
Print an Application
Download and fill out the application in Adobe Acrobat. Print it out and sign it. This file includes all supporting materials, such as the High School Report. Don't forget to attach your essay before mailing it in.
Request Hardcopy of Application
Request a printed application from the Office of Admissions by email, by phoning 1-800-345-5385, or filling out the online Information Request Form.