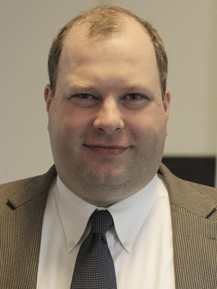 Derek Nelson
ASSOCIATE PROFESSOR OF RELIGION
Derek Nelson is a summa cum laude graduate of Wabash College who returned to his alma mater as Associate Professor of Religion in 2012. He is a historical and systematic theologian with wide-ranging interests in the study of religion and theology. His first two books deal with the doctrine of sin and a third concerns the relationship of religion and narrative theory, particularly in the genre of theological autobiography. Nelson earned masters and doctoral degrees at Yale University and the Graduate Theological Union in Berkeley, California. While he loved living on each U.S. coast, Nelson is a native of Minnesota with warm feelings toward the Midwest.
He teaches courses in medieval and Reformation Christianity, religion and film, religion and literature, theological ethics and various topics in Christian theology. Nelson is an ordained Lutheran pastor, and is presently at work on an intellectual biography of the sixteenth century theologian Martin Luther. He will be a visiting fellow at Oxford University in 2013 for research related to this book.
Nelson and his wife Kelly, a native of Washington, enjoy walking with their enormous black Lab, Ole. He is a terrible but avid golfer and fisherman. He enjoys sharing meals with students and colleagues and arranging travel components to national and international destinations in his courses.