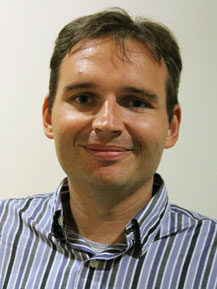 Michael Burch
BKT ASSISTANT PROFESSOR OF POLITICAL SCIENCE
Michael Burch joined the Wabash faculty as an assistant professor in the fall of 2013. His primary teaching and research interests straddle the divide between political science subfields of international and comparative politics. His dissertation looks at what happens when rebel organizations choose to fund their rebellion with transnational criminal activities. He finds that introducing transnational crime into the battlefield leads to longer wars and increases the chance that the state will face multiple conflicts. His dissertation is based partially on field research conducted in the Democratic Republic of the Congo and Cambodia. He hopes to take Wabash students with him in the future as he conducts research in post-war states in Africa and Asia.
Burch is passionate about international politics in both Africa and Asia, and plans to offer courses on both regions in the near future. In the fall of 2013, he taught a course on contemporary civil wars, with a focus on conflicts in Africa and the effects of U.S. counterinsurgency on countries such as Somalia, Yemen and Pakistan. His other course for the fall used transnational criminal activities as a way of understanding international political economy and globalization. Topics to be covered in this class include piracy, human trafficking, drug smuggling and money laundering. In the fall of 2014, he will be teaching courses that look at security issues in East Asia , while also teaching his first Freshman Tutorial on how belief in conspiracy theories shapes the political process. In the future, he hopes to offer courses on international conflict, human security, migration, spies and the international politics of sports. He loves anything about international politics and welcomes course suggestions from the men at Wabash.
When not teaching, Burch loves to travel; he and his wife, Barbara, have a goal of making it to every country in the world at least once (currently at sixty-eight). The two of them also plan to visit every national park in the United States and every major league baseball stadium. They both love college basketball and believe that the first two days of March Madness should be national holidays.
EDUCATION
PhD in Political Science from the University of Colorado, Boulder, May 2013
MA in Political Science from the University of Colorado, Boulder, May 2010
MA in Security Policy Studies from George Washington University, May 2007
BA in History and Political Science from New College of Florida, May 2004
RECENT COURSE OFFERINGS
At Wabash College
Revolutions, Insurgency and Terrorism (Fall 2013)
The International Political Economy of Crime (Fall 2013, Fall 2014)
Global Environmental Politics (Spring 2014)
The Politics of Africa (Spring 2014)
Introduction to International Relations (Spring 2014)
Asian Security Politics (Fall 2014)
Freshman Tutorial: The Politics of Paranoia (Fall 2014)
At University of Colorado, Boulder
PSCI 3143: Topics in Human Security
PSCI 3062: Revolution and Political Violence in the Arab Spring
PSCI 3193: Contemporary Civil Wars
RESEARCH
(* indicates research with Wabash student)
Burch, Michael and Jacob Burnett*. The International Politics of Adoption. Data Collection in Process.
Bell, Curtis and Michael Burch. Are Rebel Leaders More Authoritarian?: An Analysis of Sub-Saharan African Leaders . Data Collection in Process
RECENT PRESENTATIONS
Burch, Michael. 2013. Teaching African Politics at a SLAC. Prepared for the African Networks Conference (Granville, OH: October 25-27).
Burch, Michael. 2013. Transnational Criminal Financing and Recurrent Civil War. Prepared for the American Political Science Association Annual Meeting (Chicago, Il: August 29-September 1).
Burch, Michael and Levente Szentkirályi. 2012. An Umbrella of Legitimacy: Rebel Faction Size and External Military Intervention. Prepared for Conference of Peace Science Society (Savannah, GA: October 26-27).
RECENT PUBLICATIONS
HONORS AND AWARDS
John J. Coss Faculty Development Grant (2014)
$1800 USD grant for field research in West Africa
CU-Boulder Department of Political Science Award for Best Graduate Paper (2013)
Faculty-judged competition among political science graduate students
Won for article that analyzes patterns of violence during DRC conflict
Co-authored with graduate student Elise Pizzi
University of Colorado Award for GPTI Teaching Excellence (2013)
University-wide award given for top Graduate Instructors
Based on multiple classroom observations by faculty
United Government of Graduate Studies Top GPTI Award (2013)
University-wide award for best Graduate Instructor
The Stover Fellowship for Excellence in Graduate Teaching (2012)
Department Award given for best performance as Instructor of Record