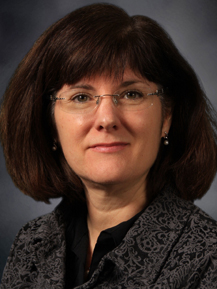 Jane Hardy
ASSISTANT PROFESSOR OF SPANISH
Dr. Hardy joined the Wabash faculty in 2006, having taught previously at Indiana University, St. Michael's College, the University of Ljubljana (Slovenia), and the Slovenian Ministry of Defense School of Foreign Languages. Her professional interests include second language acquisition, language teaching methodology, and study abroad. Since 2008, she has accompanied Wabash students and faculty to Ecuador as part of the Wabash Summer Study Program that she co-directs with Dr. Dan Rogers.
A proud polyglot, Dr. Hardy has studied five foreign languages (although she can't claim to speak all of them well) and has traveled widely in Europe and Latin America. On campus, she is actively involved in the Teacher Education Program and she is a strong proponent of off-campus studies. In her free moments, she enjoys spending time with her husband and their two sons. The four of them can occasionally be spotted around town walking their three dogs.
EDUCATION
M.A. and Ph.D. in Linguistics, Indiana University
Post-Baccalaureate Certificate in Applied Linguistics, Indiana University
B.A. in Spanish and French, the University of Virginia
RECENT COURSE OFFERINGS
SPA 101-102 — Elementary Spanish
SPA 201-202 — Intermediate Spanish and Hispanic Cultures
SPA 277 — Introduction to Ecuador
SPA 301 — Conversation and Composition
SPA 311 — Survey of Spanish Linguistics
EDU 405 — Methods of Modern Language Teaching in the Middle and High School
Freshman Tutorial — We Are What We Speak: The Life and Death of Languages
RECENT PRESENTATIONS
"Professionalism in language teaching?" Plenary presented at the 2nd Congreso Internacional de la Escuela de Lenguas Modernas: Lenguas, Culturas e Identidades, University of Costa Rica, San José, December 2010.
"Enseñanza de la literatura para una clase de español como segunda lengua." I Jornada de Actualización de Docentes en la Enseñanza del Español como Segunda Lengua, Instituto Tecnológico de Costa Rica, Cartago, December 2010.
"Student learning and the role of a pre-trip course in a short-term study abroad program." Integrating Study Abroad into the Undergraduate Curriculum: Transforming On-Campus Teaching and Learning, Beloit College, Beloit, Wisconsin, November 2009.
"An investigation of the benefits of a short-term study abroad program and the effectiveness of a pre-trip preparation course." 6th Annual Conference of the International Society for the Scholarship of Teaching and Learning (ISSoTL), Bloomington, Indiana, October 2009.
"Transitioning from a native to a non-native teacher: A teacher's personal journey." 1st International Congress of Applied Linguistics, Heredia, Costa Rica, October 2007.
"The perceptions of entering ESL/EFL teachers towards their professional preparation and careers: A longitudinal study." Annual meeting of American Association of Applied Linguistics, Costa Mesa, California, April 2007.
"Helping students through the process of writing: The editing process." 11th Annual Slovenia IATEFL Conference, Ljubljana, Slovenia, September 2003.
"Professionalism in ELT and the myth of native speaker superiority." 9th HUPE-IATEFL-TESOL Conference, Zadar, Croatia, April 2001.
RECENT PUBLICATIONS
"Slovenian EFL teachers and the career cycle." Humanising Language Teaching, 9 (2), March 2007.
"Candidates in camouflage: Designing a proficiency test preparation course for the Slovenian Armed Forces." In Snow, M.A. & Kamhi-Stein, L.D. (Eds.), Designing a New Course for Adults (vol. 5 of TESOL Curriculum Development Series, K. Graves, series editor). Alexandria, Virginia: TESOL, 2006.
"The rules of the queue." In Bardovi-Harlig, K. & Mahan-Taylor, R. (Eds.), Teaching Pragmatics. Washington, DC: US Department of State, Office of English Language Programs, 2003.
"EFL teacher career cycle and beliefs: A view from Slovenia." In Belak, M. (Ed.), IATEFL Slovenia 9th Annual Conference Selections. Ljubljana: IATEFL Slovenia. 2002.
"Phonological learning and retention in second language acquisition." In Eckman, F.R. (Ed.), Confluence: Linguistics, L2 acquisition, and speech pathology. Philadelphia: John Benjamins, 1993.
SIGNIFICANT ACTIVITIES
American Council on the Teaching of Foreign Languages (ACTFL) Oral Proficiency Interview (OPI) Rater of Spanish with Full Certification.
As a Fulbright Program Specialist, conducted workshops on English for Specific Purposes at the University of Costa Rica, San José, December 2010