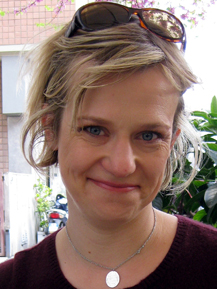 Jill Lamberton
VISITING ASSISTANT PROFESSOR OF ENGLISH
Jill Lamberton has taught both English and Rhetoric courses since she joined the Wabash College faculty in 2009. She also serves on the Advisory Board for the Malcolm X Institute of Black Studies. After growing up in the Pacific Northwest and attending high school in Southern California, Prof. Lamberton came to the Midwest to pursue doctoral studies at the University of Michigan. Her teaching and research focuses on rhetoric and composition, Victorian literature and culture, and the history of access to higher education. George Eliot is one of the authors she most admires.
Prof. Lamberton is writing a book about women's rhetorical strategies for entering higher education, specifically, how nineteenth-century college women formed networks and shared persuasive tools to gain access to leading universities, such as Cambridge and Harvard. Drawing on British and American archives, the book examines students' extra-curricular writing—including campus magazines, song lyrics, short fiction, letters, and diaries—to reveal how women translated the cultures and expectations of these elite universities. In such documents, students discussed how to interact with professors; what books to read; how to sound confident and prepared when called upon to speak in class; whether the public expression of frustration was counter-productive to gaining access to education; and even how to dress. One thrilling moment in this research was Prof. Lamberton's rediscovery of diary kept by Alice Longfellow (daughter of the famous poet) while she was studying at Newnham College, Cambridge, and simultaneously serving on the committee that founded Radcliffe College.
This project has confirmed Prof. Lamberton's deep appreciation of the power of college students' writing—as part of their formation as thinkers and as evidence of their ability to change cultures when they join forces and put their minds to it. Her proudest moments as a teacher come when students report that her classes made them better writers. Her classroom is known for being relaxed and comfortable but at the same time rigorous (don't ever come to class without a marked copy of the day's reading assignment!).
In her free time, Prof. Lamberton loves to spend time with her family and to travel—she has lived in Italy and Spain and recently spent a week in Mexico City. Such experiences have made her an advocate for study abroad, yet she also thinks everyone needs to spend time in the Pacific Northwest (a.k.a. "God's Country.") She likes to bake and has an insatiable sweet tooth, so Wabash students are sometimes asked to help her with a rhubarb pie or a batch of red velvet cupcakes.
EDUCATION
Ph.D. English & Education (Rhetoric & Composition), University of Michigan, 2007
Graduate Certificate in Women's Studies, University of Michigan, 2005
M.A. English Studies (Victorian Literature), Western Washington University, 1998
B.A. English, Religion, and Spanish, Walla Walla College, 1996
RECENT COURSE OFFERINGS
ENG 101 – College Writing
ENG 202 – Writing with Power and Grace
RHE 101 – Introduction to Public Speaking
RHE 370/ENG 310 – The Rhetoric of Debate: Victorian Essays
Freshman Tutorial – Get Up, Stand Up: Civil Rights in Text and on Screen
RECENT PRESENTATIONS
"Maude Royden's Radio Pulpit: Women Ministers and the Church of England in 1930s-era Britain," Conference on College Composition and Communication, 2011
"Letter Columns in Student Magazines: Nineteenth-Century Women's Transatlantic Strategies for Securing Access to Elite Higher Education," Society for the Study of American Women Writers, 2009
"Women's Debating Societies: Gender and Rhetorical Performance at Late-Nineteenth Century Universities," 7th Biennial International Feminism(s) and Rhetoric(s) Conference, 2009
"'The lamp in the spine does not light on beef and prunes': Virginia Woolf on Privileged Dining and Intellectual Work," Modern Languages Association Annual Convention, International Virginia Woolf Society Session, 2007
"'It's rather dreadful when you haven't got any particular lines': College Women Teach Each Other to Speak Their Minds, 1870-1900," Rhetoric Society of America, 2006
RECENT PUBLICATIONS
"Out Loud: The Common Language of Poetry," English Journal 93.1 (September 2003) 44-49. (With Lindsay Ellis and Anne Ruggles Gere)
Work in Progress
"Collaborating and Erasing in the Construction of Institutional Memory: The Case of Alice Longfellow and the 'Harvard Annex," in-progress for submission to Rhetoric Society Quarterly.
"'It's rather dreadful…when you haven't got any particular lines': Nineteenth-Century College Women Composing Identities for Academic Success" in-progress for submission to College Composition and Communication.
HONORS AND AWARDS
The Gladstone Scholarship, Gladstone's Library (formerly St. Deiniol's Library), Hawarden, Wales, 2011
Distinguished Dissertation Award, American Society for the History of Rhetoric, 2008
Schlesinger Library Dissertation Grant, Radcliffe Institute for Advanced Study, Harvard University, 2005
Outstanding Graduate Student Instructor Award, Rackham School of Graduate Studies, University of Michigan, 2005
David and Linda Moscow Prize for Excellence in Teaching Composition, Department of English Language and Literature, University of Michigan, 2005
Korzenik Research Fellowship, Friends of the Longfellow National Historic Site, Cambridge, MA, 2004