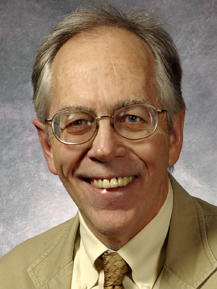 Marcus A. Hudson
PROFESSOR OF ENGLISH
A few words about myself: I am a poet, husband of thirty years to teacher and writer Helen Mundy Hudson and father of a daughter who graduated in May 2011 from Colorado College and will be teaching in New Mexico for Teach for America. I have been a professor of English at Wabash since 1987. Before that I taught at the University of Wisconsin—Green Bay and before that at the University of Washington in Seattle during my graduate school years. I greatly enjoy teaching. There are few pleasures greater than watching young minds grapple with ideas, dig into them, and grow.
I have also worked as a staff writer and editor for an archaeology project on the Columbia Plateau and as an editor for an urban planner. Before I began my academic career, I was a free lance writer, and published articles in Audubon, Pacific Northwest magazine, Stepping Out Northwest, Environmental Action, and Iceland Review.
I am a passionate advocate for the liberal arts—I strongly believe in the interconnections of all human knowledge, and so try to read widely outside my field (of medieval studies and poetry)—particularly in biology and natural history, philosophy, theology, history, and psychology. I want to know all I can about our planet and how to live on it, responsibly and sustainably. I am co-director of the Environmental Concerns Committee at Wabash and a board member of Friends of Sugar Creek, a local environmental group.
To recreate, I like to get out into the woods and be silent for awhile, just watching and listening. Or listen to music—the Decemberists and Regina Spektor are at the top of my play list these days. Or hang out with friends or continue my long, ongoing conversation with my wife over a good dinner and a glass of wine. At lunchtime you can usually find me at the pool. Swimming is great exercise, and I am addicted to that rush of endorphins.
EDUCATION
1964-68 B.A. Georgetown University, Washington, D.C. A major in English as well as much study
in the sciences
1971-72 Attended George Mason University, Fairfax, Virginia. Courses in genetics,
microbiology and animal behavior.
1973 M.A. University of Washington, Seattle, Washington. Studies in literature and
creative writing (poetry).
1977-83 Ph.D. University of Washington. Doctorate in English Literature (Medieval
Studies). Dissertation entitled, "A Translation of Beowulf and Commentary."
RECENT COURSE OFFERINGS
Freshman Tutorial: Into the Wild: American Nature Writers on Wilderness
Freshman Colloquium: Enduring Questions
English 101: Composition
English 105: Introduction to Poetry
English 110: Introduction to Creative Writing
English 212: Creative Writing: Poetry
English 215: Introduction to Medieval and Renaissance Literature
English 216: Introduction to Shakespeare
English 300: The Beat Writers
English 340: Two Literary Kinsmen: William Butler Yeats and Ezra Pound
English 312: Advanced Workshop in Poetry
English 497: Seminar: Ecocriticism and American Nature Writing
RECENT PRESENTATIONS
"The Origins of Aldo Leopold's Land Ethic" presented at the 2011 ASLE Conference at Indiana University, Bloomington, Indiana, June 2011
"Poetry Day at the Carnegie Museum: an Introduction to Writing Poetry." With Wabash Student Poets as co-teachers, April 2011.
Poetry Reading, Wabash College, April 2010.
"Poetry in the Name of the Earth" (on the writings of Wendell Berry and Rachel Carson): a Public Lecture at the Oaklandon Unitarian Church, August 2009.
"Watershed Aesthetics and Ethics in Gary Snyder's Mountains and Rivers Without End" presented at the 2009 Biennial ASLE Conference, "Island Time," at the University of Victoria in June 2009.
Introduction to John Haines at the ceremony honoring him as the 2008 winner of the Aiken Taylor Award for Modern Poetry (Sewanee Review), University of the South, November 2008.
Poetry Workshop for the Central Catholic High School of Lafayette, August 2008.
"Thoreau's Bean-Field and his Dwelling at Walden" presented at the 2008 ASLE sponsored conference, "The Keyboard in the Garden," at Delaware Valley College in June 2008.
"A Reading of Wendell Berry's A Timbered Choir" presented at the 2007 Biennial Conference of the Association for the Study of Literature and the Environment at Wofford College, South Carolina in June 2007.
"'A Voice at Once Contemporary and Ancient': The Enduring Value of John Haines' Winter News," (earlier draft) presented for the Lecture Club of the Wabash English Department, October, 2006.
"Earth Day Sermon" for St. John's Episcopal Church at Shades State Park in April, 2006.
"Beyond Spectacle," talk given as part of a panel on the representation of disability at the Associated Writing Programs (AWP) Convention in Austin, Texas in March 2006.
RECENT PUBLICATIONS
"Letter to Miranda," (long poem), The Sewanee Review, Summer 2011
"Caedmon," (translation of my poem into German) by Gerburg Garmann, Die Gazette, August 2011
"Devilweed," "Ecce Homo," and "If Walt Whitman is Grass" (poems), kestrel, Summer 2011
"Final Bath" (poem), Poet Lore, Spring 2011
"A Certain Moral Depth" (review of John Haines's essay collection, Descent), The Sewanee Review, Winter 2011
"Sacred Space in America" (review of John Gatta's Making Nature Sacred: Literature, Religion, and Environment in America from the Puritans to the Present), The Sewanee Review, Winter 2010.
"A Voice At Once Contemporary and Ancient": The Enduring Value of John Haines's Winter News" (essay), The Sewanee Review, Fall 2009
"Above the Gunnison" (poem), O Tempora, Spring 2009
"Helen's Tears" (poem), Fine Madness, Issue #30, 2007
"The Feet of St. John" (nonfiction). Hayden's Ferry Review, Fall/Winter, 2006-2007
HONORS AND AWARDS
2008: Kay Deeter Award in Poetry (awarded by Fine Madness magazine) for the poem, "Helen's Tears"
2001: Fellow in the National Endowment for the Humanities Institute in Environmental Ethics, held at the University of Alaska-Anchorage in May and June
1999: Fellow at the Teller Wildlife Refuge Workshop in Nature Writing in June
1999: The Second Louise E. Reynolds Memorial Poetry Prize (First Place) awarded by the editors of the new renaissance for the long poem, "The Sandstone Meditations"
1995 & 1997: Mary Anderson Center Residency in Writing
1990: Nelson Bentley Award for contribution to Northwest poetry
1990: Artist-in-Residence for the Greater Sitka Arts Council (Sitka, Alaska)
1989: The Kay Deeter Award in Poetry (awarded by Fine Madness Magazine)
1986: Yaddo Fellowship
1984: Strousse Award (awarded by Prairie Schooner for the best poem or group of poems, published in Prairie Schooner in 1983)1984: National Endowment for the Arts Fellowship in Literature (Poetry)
1983: Robert Heilman Dissertation Prize (awarded by the University of Washington English faculty for the best dissertation submitted in 1983)
1983: Juniper Prize (University of Massachusetts Press) for the book-length manuscript of poems, Afterlight
1974: First Place Poetry Award in the Pacific Northwest Writer's Conference
1968: The Georgetown Journal Literary Prize
BOOKS
Beowulf: A Translation and Commentary (Lewisburg, PA: Bucknell University Press, 1990)(a book-length study on the art of translating of Beowulf as well as a literary translation of Beowulf).
Reprinted in 2007 by Wordsworth Editions, Limited in its Classics of World Literature Series: Beowulf, Translation and Commentary by Marc Hudson, with an Introduction and Notes by Martin Garrett (Hertfordshire, U.K.: Wordsworth, 2007).
The Disappearing Poet Blues (Lewisburg, PA: the Bucknell University Press, 2002).
Journal for an Injured Son (Port Townsend, WA: the Lockhart Press, 1985); enlarged edition with additional poems reprinted in paperback, 1991.
Afterlight (Amherst: the University of Massachusetts Press, 1983) (The 1983 Juniper Prize winner).
Island (Seattle: the Jawbone Press, 1977).