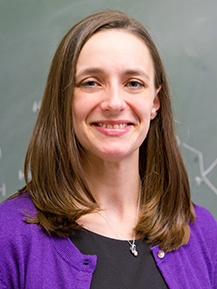 Laura Wysocki
BKT ASSISTANT PROFESSOR OF CHEMISTRY
Laura Wysocki is an assistant professor starting her first semester at Wabash College in 2011 and will be teaching Organic Chemistry. Dr. Wysocki has majors were Chemistry and the Integrated Science Program, a challengingprogram with were very interested in the relationship between the sciences that earned the Lucent Technologies Foundation's Graduate Research Program for Women fellowship and wanted to continue hert the University of Wisconsin–Madison in the Chemistry–Biology Interface Training Program and receiving<span "=""> an award for excellence in teaching. At Howard Hughes Medical Institute's Janelia Farm Research Campus, which focuses on answering questions in neuroscience via cross-disciplinary collaborations, Dr. Wysocki has focused on the synthesis of fluorescent dyes that can be used as sensors or labels in super-resolution imaging experiments.
As a Wisconsin native, Dr. Wysocki looks forward to returning to the Midwest. When she is not in her laboratory or office, she will be found cheering on her favorite sports teams, especially on the basketball court. March Madness is her favorite holiday.
EDUCATION
Ph.D. in Organic Chemistry, University of Wisconsin–Madison
B. A., magna cum laude, with honors in Chemistry and Integrated Science Program, Northwestern University

RECENT COURSE OFFERINGS
Chemistry 221 – Organic Chemistry I
Chemistry 421 – Modern Reactions in Organic Synthesis
Chemistry 487 – Special Problems
RECENT PRESENTATIONS
Wysocki, L. M.; Betzig, E.; Lavis, L. D. Facile Synthesis of Caged Xanthene Dyes via Leuco Derivatives. Poster Presentation at the American Chemical Society 239th National Meeting & Exposition, San Francisco, CA, March 2010.

Wysocki, L. M.; Burke, S. D. Efficient Synthesis of the Bis(tetrahydrofuran) Ring Core of Trilobin and Trilobacin and Progress Toward the Synthesis of the Natural Products. Poster Presentation for the Academic Employment Initiative at the American Chemical Society 232nd National Meeting & Exposition, San Francisco, CA, September 2006.
RECENT PUBLICATIONS
Wysocki, L. M.; Lavis, L. D. Advances in Small Molecule Fluorescent and Fluorogenic Probes. Curr. Opin. Chem. Biol. (paper in preparation)
Wysocki, L. M.; Tkachuk, A. N.; Brown, T. A.; Betzig, E.; Lavis, L. D. Synthesis of Caged Fluoresceins and Rhodamines via Reduced Intermediates. (paper in preparation)
Wysocki, L. M.; Dodge, M. W.; Voight, E. A.; Burke, S. D. A Stereochemically General Approach to Adjacent Bis(tetrahydrofuran) Cores of Annonaceous Acetogenins. Org. Lett. 2006, 8, 5637–5640.
Han, Y.-J.; Wysocki, L. M.; Tanawala, M. S.; Siegrist, T.; Aizenberg, J. Template-Dependent Morphogenesis of Oriented Calcite Crystals in the Presence of Magnesium Ions. Angew. Chem., Int. Ed. 2005, 44, 2386–2390.
HONORS AND AWARDS
Outstanding Teaching Assistant Award, University of Wisconsin–Madison
Chemistry–Biology Interface NIH Training Grant
Graduate Research Program for Women Fellowship
McElvain Fellowship
Phi Beta Kappa