Supportive Campus Environment AT
WABASH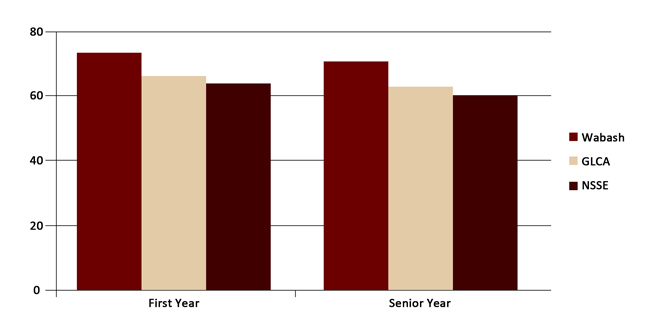 * Each benchmark is an index of responses to several NSSE questions. Because NSSE questions have different response
sets, each question's response set was rescaled from zero to 100, and students' rescaled responses were then averaged.
Thus a benchmark score of zero would mean that every student chose the lowest response option for every item, and 100
would mean every student chose the highest response to every item. Although benchmarks are reported on a 0-100 scale,
they are not percentages.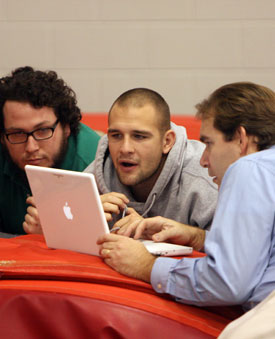 Students perform better and are more satisfied at a college committed to their success and are more likely to cultivate positive working and social relationships. At Wabash, everyone — faculty, staff, and coaches — is a 'teacher.'
- How well do students get along with other students?
* 94 percent of first year students report their peers are
friendly, supportive, and give them a sense of belonging.
- Are students satisfied with their overall educational experience?
* 93 percent of first year students rate their experience good
or excellent. 88 percent of seniors would choose Wabash
again if they started college their career over.
- How much does the school help students with their academic and social needs?
* 92 percent of first year students feel Wabash provides substantial
support for their academic success; 61 percent perceive
substantial support for their social needs.