Active Learning AT
WABASH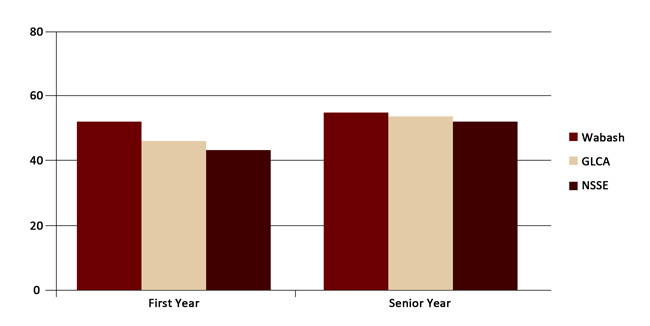 * Each benchmark is an index of responses to several NSSE questions. Because NSSE questions have different response
sets, each question's response set was rescaled from zero to 100, and students' rescaled responses were then averaged.
Thus a benchmark score of zero would mean that every student chose the lowest response option for every item, and 100
would mean every student chose the highest response to every item. Although benchmarks are reported on a 0-100 scale,
they are not percentages.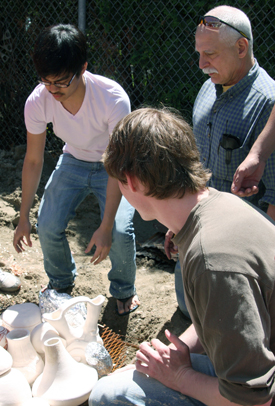 Wabash has never been a place where students sit and listen to lectures. As our students say: "There are no back rows in Wabash classrooms." Here classroom engagement is about teamwork and collaborative learning. What should you know about college classroom activities? Read on to see how Wabash students respond to the
NSSE questions on active learning?
- How often are topics from class discussed outside the classroom?
* 81 percent of freshmen frequently discuss readings or ideas
from courses outside of class.
- Do students work together on projects - inside and outside of class?
* 47 percent of freshmen frequently work with other students
on class projects, and 60 percent frequently work with peers
on assignments outside of class.
- How many students apply classroom learning to real life through internships or off-campus field experiences?
* By spring of their senior year, 67 percent of students have
participated in some form of practicum, internship, field
experience, co-op, or clinical assignment.